Staff Spotlight: Meet Kyrene
Staff Spotlight: Meet Kyrene, Cosmetic Coordinator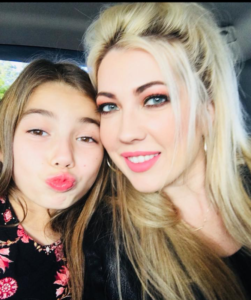 Kyrene is a desert baby, born and raised in Chandler Arizona. We are so happy to welcome this San Diego transplant into our Derm Del Mar family. 
The oldest of seven kids, family is important to her. She has two beautiful daughters and  loves to play dress up with them and travel home to Arizona to spend quality time with her mom and siblings. She is also an incredible baker and we have all gained weight from the delicious treats she has made for us! 
Kyrene came to us with over nine years of dermatology and surgical experience. She is also a very talented hair stylist and make up artist.
" I  love my job, my patients and my co-workers. I've always loved to help others know and see their natural beauty. How lucky am I ? I  get to do that everyday for a career!  I  know I've found my forever home here." 
Skin Type: Normal-to-dry 
Favorite Treatment: Botox of course! I strongly believe in the preventative power of neuromodulators. If I  can prevent the lines from starting, instead of treating them later, then I'm ahead of the aging game.
Favorite Product:
All things SkinMedica! Lumivive has become my latest go-to product. If you look on my bathroom counter you will see TNS Essential Serum, Lytera 2.0, Retinol Complex and Total Defense and Repair. 
Skincare Regimen:
I  grew up in heat and sun and had to learn very young to protect and prevent. I  never step out without sunscreen and neither do my kids!
Lumivive morning and evening to repair my skin from environmental damage. 
TNS Essential Serum at night to keep up with the breakdown of collagen. 
Retinol to exfoliate and prevent pre-cancerous changes to my skin. 
Total Defense and Repair for sun screen in the morning. This is a great product (from SkinMedica) because it guards your skin against UV and infrared rays that cause damage. 
Tell us three random things about yourself:
I

 

love the color Pink. Pink is life!
Thailand is on my bucket list. I

 

would love to spend a couple weeks there, just exploring and soaking in the culture.

 
Fitness is important to me. I

 

love to stay in shape by running and hiking.

 
Tips or tricks: 
Prevention is key! 
You can prevent the need for procedures and treatment for skin cancers later in life by the way you care for your skin now! Sun screen, quality antiaging skin care, sun avoidance and protection are all very important today for the health of your skin tomorrow!