Rachael Mudd PA-C, MSPAS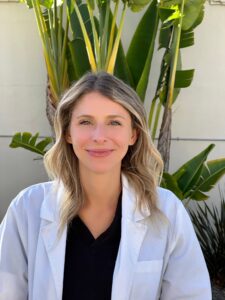 Rachael Mudd is a board-certified Physician Assistant, licensed by the state of California. 
Rachael received her medical education from Duke University's Physician Assistant program where she graduated with honors. She earned a Master of Health Science in Physician Assistant Studies. She is a member of the American Academy of Physician Assistants (AAPA), the Society for Dermatology Physician Assistants (SDPA), and is currently a Diplomate Fellow candidate in dermatology.
Rachael received her undergraduate education at the University of Arizona where she graduated Cum Laude and earned a Bachelor of Science in Physiology, and received a thematic minor in creative writing and sociology. 
Rachael has worked as a physician assistant in dermatology at health centers in Oregon and San Diego. She is well-versed in treating patients with acne, psoriasis, rosacea, eczema, warts, and hair loss. She also specializes in skin cancer detection, skin examinations, and skin cancer treatment.  
She also enjoys cosmetic dermatology where she can use her background in creativity and art to help patients achieve their desired results.
Rachael is originally from Arizona and currently lives in San Diego. In her free time, she enjoys traveling, playing drums, snorkeling, as well as spending time with friends and family.