CoolMini™ Double Chin Reduction
A "double chin" occurs when excess fatty tissue accumulates under the chin and on the neck. Medically referred to as submental fat, this common concern can affect men and women of all ages and body types. To reduce the appearance of a double chin in the past, patients could choose to focus on diet and exercise—often with limited success—or they could opt for a surgical procedure. Today there's a new option. At Dermatology & Laser of Del Mar, Dr. Deborah H. Atkin offers the innovative, non-surgical CoolMini™ device, which can provide excellent results with little to no downtime.
How It Works
The CoolMini™ is made by the same company as CoolSculpting®, and it is designed to freeze fat cells in the chin area using a technology called Cryolipolysis™. During the procedure, cold energy will be delivered into the treatment area via a handheld device. This process can break down the fatty tissue and allow it to be processed out of the body. This method is non-invasive and can achieve gradual, natural-looking results over several weeks to months. Benefits of CoolMini™ include:
Non-surgical treatment
Little to no downtime
Minimal discomfort
Targeted fat reduction of the chin and neck
CoolMini™ Results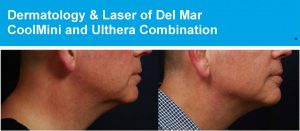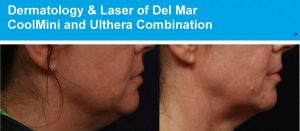 *Results May Vary
What to Expect
The CoolMini™ is specifically designed to provide fat reduction in small areas like the chin and neck without the need for surgery, needles, or incisions. Furthermore, downtime should be brief, and the result typically will be a smoother, more contoured appearance to the chin, neck, and jawline. CoolMini is also used for areas such as above the knees, anterior bra fat and small bulges above the belly button.
Length of Time for Procedure? Typically about one hour.
Who Will Perform This Procedure? A highly trained member of the nursing staff.
What is the Recovery Time? Most patients can return to normal activity soon after treatment. Some temporary bruising, swelling, tingling, numbness, and tenderness in the treated area is normal, and these symptoms should subside in a few days.
Final Results of the Procedure? Benefits of CoolMini™ should begin to be noticeable after two to three weeks, with continued improvement for the next two or three months. A single treatment may be sufficient for some people, while a series of treatments may provide more comprehensive results for other individuals.
Other Treatments or Skincare Products that may Improve My Result? For reduction of fatty tissue on the body, CoolSculpting® offers a similar experience and outcome as the CoolMini™. Additionally, Ulthera® can help to firm the chin, neck, jawline, above the knees, and lower abdomen if there is skin laxity present.
Contact Dermatology & Laser of Del Mar
To learn more about CoolMini™, or if you would like to schedule a consultation with Dr. Atkin, please contact our office today.