Top Five Cosmetic Treatments For Men
The truth is out; men care about their lines, wrinkles and sun-damage as much as women!
Cosmetic procedures such as botox, dermal fillers and laser skin resurfacing have become the norm for men across the world and across the generations.  In our Del Mar, California dermatology practice we see men from 18 to 80 for treatments that range from lasering age related "barnacles" to laser therapy for acne.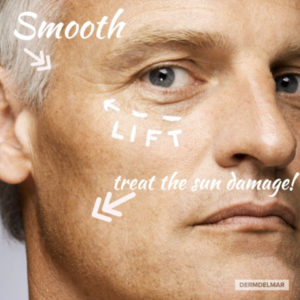 According to statistics provided by The American Society of Plastic Surgeons, 214,741 were reported to have surgical cosmetic procedures in 2018. There were 1,092,103 non-surgical, or minimally invasive procedures on men in the same year. This is an increase of  72% since the year 2000. You may have noticed that this is reflected in advertisements for aesthetic medical practices, as well as the manufacturers of neuromodulators, dermal fillers and laser / device companies. 
At Dermatology & Laser of Del Mar we took a look at the five most popular procedures for the men of San Diego and surrounding areas. Here is what we've learned. 
#5 Laser Hair Removal: Forget the razor, get laser! GentleMax PRO, our go-to system for permanent hair reduction is a great way to get rid of excessive back and chest hair, ingrown beard hair and annoying ear hair. 
#4 CoolSculpting: Love handles and belly bulges are never in vogue! San Diego has the reputation as a sporty place to live. Whether it's golfing, bicycling, surfing, hiking or just hitting the gym or town is populated by active and fit individuals. Nothing can be more frustrating than 
putting in the hard work and NOT seeing the benefits. This is where CoolSculpting comes into play. 
CoolSculpting is for those areas of exercise and lifestyle resistant fat. Those areas that no matter how hard you work out and eat right, they are always preferentially heavier. 
CoolSculpting is a quick and safe 35-45 minute treatment that "freezes your fat" causing the fat cells to die and be purged from the body. It's perfect for lower belly fat, love handles and muffin top. We can even use it to treat the neck and reduce your double chin. 
#3 Dermal Fillers: At Dermatology & Laser of Del Mar we offer a variety of fillers and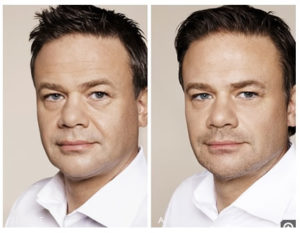 collagen stimulators, including:
Restylane-L, Restylane Lyft, Restylane Refyne and Defyne and Restylane Silk
Juvederm XC Ultra, Ultra Plus, Volbella, Vollure and Voluma
Radiesse
Sculptra Aesthetic
These fillers can be used to reduce lines, wrinkles and folds. A Master Injector, Dr. Deborah Atkin, understands there can be a fine line between providing smoothing, lift and volume and "overfilling" which can create an unnatural, or at times a feminine look. Our male patients find Dr. Atkin's technique and expertise give them a smoother, more youthful appearance while maintaining the masculine quality of their face and skin. 
Sculptra Aesthetic is a collagen stimulator that more men are turning to for reversing elements of the aging process. Sculptra Aesthetic creates a fine "netting" of L-Poly Lactic Acid in the dermis that stimulates the production of your own natural collagen. This creates a lift and re-volumizes areas that have become thinned, or lax over time. Facial folds are reduced, lines are minimized and balance is restored to the angles of the male face. 
#2 Neuromodulators (Botox / Jeuveau / Dysport / Xeomin):  These wrinkle reducers are used for facial lines and wrinkles as well as hyperhidrosis (excessive sweating) of the palms, feet and under arms. 
Botox is injected into the desired treatment area in a series of small precise injections and reduces the nerve impulses that cause the muscles to create expressions that cause collagen breakdown and in turn lines. 
When used for hyperhidrosis, the neuromodulator blocks the nerve impulses that signal the sweat glands to produce sweat. This can be beneficial to many as hyperhidrosis can create discomfort and a lack of confidence in social and business situations. 
#1 Laser Skin Resurfacing:  Fraxel Laser has long been the gold standard in laser skin resurfacing treatments. The Fraxel Re:Pair, fractional C02 and The Fraxel Dual, fractional Erbium and Thulium laser not only provide a significant cosmetic improvement to the skin. It can improve your skin's health. Fraxel laser is FDA approved for the treatment of actinic keratosis, or pre skin cancers. About 10% of actinic keratosis evolve into squamous cell carcinoma. While 10% may seem like a low percentage, that is still one-in-ten and for those that have a moderate to large volume of actinic damage. 
Fraxel laser skin resurfacing will treat AK's, line, wrinkles, texture and brown sun damage. We commonly pair it with other laser modalities to provide an even more impressive cosmetic change. 
If you have any questions about the procedures mentioned, or if you would like to schedule a consultation with Dr. Deborah Atkin to discuss your treatment options, contact us.