Forms and Financing
To link to our patient portal for pre-registration please click the myPatientVisit icon. We request that you complete your registration in advance in order to maximize your treatment time in-office. If you have not received your unique security, contact our office at (858)350-7546 or [email protected]

Once you have your security code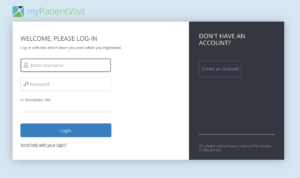 ← create an account
You will be asked to select a user name and password, along with 3 security questions.
You will also need to make sure you include the name you are registering with our practice as. Ex. If you are Robert Smith, but called Rob, Make sure that we know you are Robert "Rob" Smith.
Please complete all parts of the registration process.
Please rest assured that all information provided is kept confidential, secure, and HIPAA compliant. Please call the office at (858) 350-7546 if you have any questions.
Need more help? Try these tips!
1.       Don't see your medical record? Click on the link "Don't see the practice you're looking for?" and enter Dermatology & Laser of Del Mar's unique practice ID: CAFHMG
2.       Your first name – James not Jimmy; William not Bill? – What name did you give the office when you called?
3.       Security Code? Your unique security code is is provided by our office. Once you call to schedule your appointment and we collect your basic information you will receive 2 emails, a confirmation and an introductory email with your code.
4.       Still need assistance? Call (858) 350-7546 to speak with a front office staff member. We are always happy to help!
Questions about your post care? Click the link to your post care instructions.
Financing
We offer financing options through CareCredit. Click the button below to apply online: