Restylane® Products
What is Restylane® ?

Deborah H. Atkin, M.D., our board-certified dermatologist, can skillfully reduce signs of aging and restore fullness to your facial features with  the Restylane® portfolio of products. Restylane® products are considered safe and natural cosmetic dermal fillers that instantly restore volume and fullness to the skin to improve the appearance of facial wrinkles and folds. Restylane® is made of hyaluronic acid, a natural substance that already exists in the human body. This virtually eliminates any risk of an allergic reaction.
Unlike BOTOX® Cosmetic or Dysport®, Restylane®  does not relax underlying muscles. Rather, their plumping effects will enhance volume and add a smoother, more youthful appearance that lasts up to six to twelve months, or even longer.
Restylane® Products
Introducing Restylane Contour and Restylane Kysse
Restylane Contour
Restylane has long been considered the gold standard of hyaluronic acid fillers. It has been on the market in the US for nearly two decades, and longer in Europe. Restylane products can fill facial folds, lift cheeks, smooth lip lines as well as plump your lips. Now, with the introduction of  Restylane Contour, we can create and replace contours in the cheek and mid face. 
It is a great product for those patients interested in more volume and definition in their mid face, or for those who want the appearance of a higher and more rounded cheekbone.
Simply put, Restylane Contour is a great filler for both younger and mature patients as it will remain flexible and dynamic and can provide subtle, natural results for all. 
Restylane Kysse
Lips lose volume, color, and elasticity with age. Restylane Kysse is a lip filler that adds volume, smooths upper lip lines for up to one year, and enhances lip color.
Designed specifically for the movement of lips, Restylane Kysse is made with XpresHAn Technology's innovative cross-linking gel for precise, natural-looking results.
Restylane-L and Restylane® Lyft with Lidocaine
Get a more comfortable lift with Restylane-L or Restylane® Lyft! If you are concerned about the potential discomfort of your treatment, we suggest using Restylane-L or Restylane® Lyft. These products contain lidocaine, a numbing agent, to reduce any discomfort before and after your treatment.
Did You Know?
Restylane® products can also be used to enhance the volume in your lips, provide a subtle lift in the cheeks and fill under-eye circles.
Results
*Results May Vary
Restylane® Refyne and Defyne
The latest additions to the Restylane® family of products, Refyne and Defyne are hyaluronic acid-based fillers that use XpresHAn® technology to rejuvenate the face with long-lasting and natural-looking results. Restylane® Refyne is FDA-approved to soften smile lines (also called parentheses) and lines that run from the corner of the mouth to the chin (also called marionette lines). Additionally, Refyne can be used to augment the lips for a fuller, more youthful appearance. The gel composition of the filler is thicker but also more flexible, allowing patients to make facial expressions easily without signs of treatment. Refyne offers instantaneous results and is intended for individuals age 21 years and above. The effects usually last about one year.
Restylane® Defyne works a lot like Refyne, but this substance is made for moderate to severe wrinkles around the mouth. Deeper, more dramatic rejuvenation can be achieved almost immediately while maintaining a natural-looking outcome. Defyne is also FDA-approved for patients 21 and older and offers benefits for approximately one year. As with Refyne and other Restylane® products, downtime is minimal and most patients can return to normal activity immediately after treatment. If you love your results, occasional maintenance sessions can extend the length of Refyne and Defyne's benefits.
What to Expect
You should expect slight swelling at the injection area. Slight bruising may also occur temporarily. Final result is almost immediate. Although any discomfort during treatment is minimal, a topical numbing agent can be used 30 minutes prior to treatment to alleviate any discomfort.
Length of Time for Procedure – Restylane® and Perlane® injections can be completed in as little as 15 – 30 minutes.
Who Will Perform This Procedure? – All injectables are performed by Deborah H. Atkin, M.D., board certified dermatologist.
What is the Recovery Time?   There is very minimal to no downtime. Temporary slight bruising or swelling can occur. Supplements are available to help prevent and minimize any swelling or bruising.
Final Results of the Procedure – You can expect to see immediate results from Restylane and Perlane®.
Other Treatments or Skincare Products that May Improve My Result? If you opt for treatment with Restylane® or Perlane®, you may also benefit from using skin care products like SkinMedica's TNS Essential Serum and IPL (photofacial) therapy to brighten up the skin!
Do you have additional questions? Contact us to schedule a consultation with Deborah H. Atkin, M.D.
Restylane® Silk

Smoker's lines, thinning lips, and shape loss are just a few common signs of aging that can develop around the mouth. Fortunately, there is a brand new, FDA-approved dermal filler specifically designed to address these areas of concern: Restylane® Silk. Developed by the same company that created Restylane® and Perlane®, Restylane® Silk is intended to subtly enhance the lips while reducing the appearance of fine lines above the mouth, often with very natural-looking results. In clinical studies, the unique formula comprised of a hyaluronic acid-based particle gel produced fast-acting, long-lasting results, often up to six months or more. If you're seeking a fuller, more youthful appearance to the lips and mouth, Restylane® Silk may be right for you. Deborah H. Atkin, M.D., our experienced dermatologist, can determine if you're a qualified candidate.
How it Works
During your initial consultation, we will discuss your areas of concern and develop a customized treatment plan that can best achieve your cosmetic goals. Using an ultrafine needle for enhanced precision, injections will be placed into the lips and fine lines around the upper mouth over the course of two sessions scheduled approximately two weeks apart. The smooth formula, made from a naturally occurring substance, is specially designed to enhance accuracy and produce the softest, most natural results possible. Furthermore, the dermal filler includes a local anesthetic to help minimize discomfort during treatment. Your overall experience is our highest priority, and we can offer supplementary options to further enhance your comfort if requested.
What to Expect
Restylane® Silk offers both immediate and gradual results that occur over the course of treatment. Improvement is often long-lasting as well, with benefits continuing up to six months or more, though individual experience will vary. Side effects are usually minimal, and they may include temporary swelling, redness, or mild bruising in the treated area. These responses should fade quickly. Restylane® Silk should only be used if you're over the age of 21.
Length of Time for Procedure? Restylane® Silk injections require two treatment sessions spaced approximately two weeks apart. Each procedure typically takes about 30 minutes, though this time may vary.
Who Will Perform This Procedure? Our board-certified dermatologist performs all injectable treatments.
What is the Recovery Time? There is little to no downtime associated with this treatment, though some mild redness, swelling, and bruising may occur at the injection sites. You should be able to return to normal activity immediately following the procedure.
Final Results of the Procedure – In most cases, the benefits are immediately noticeable with additional improvement during the second session.
Other treatments or Skincare Products that May Improve My Result? There are a number of dermal fillers and cosmetic injectables available that can provide more comprehensive facial rejuvenation, including Restylane®, Dysport® and Fraxel Laser Skin Resurfacing. Skincare products such as TNS Advanced Serum and Retinol Complex can assist in stimulating collagen and help you to achieve and maintain firmer, more youthful skin.
Restylane® & Restylane® Silk Rewards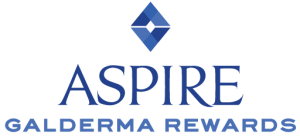 Aspire Rewards Program
Galderma, the makers of the Restylane portfolio, Sculptra and Dysport offer rewards to loyal patients. Aspire rewards is a great way to save on your treatment today and bank points to save on future treatments. It's as simple as this;  Go to the Aspire Rewards website and join. Just for signing up you will get $60.00 in points for your next treatment!
Next, watch your text messages and emails for rebates and special Galderma offers on their entire portfolio of products.