KYBELLA™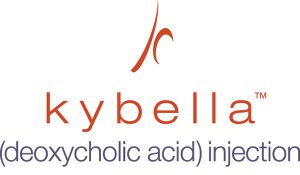 KYBELLA™ is a revolutionary nonsurgical treatment designed to enhance the contour and appearance of submental fullness – an aesthetic concern more commonly referred to as a "double chin." Once administered, this advanced injectable solution aids in the breakdown and destruction of fat cells underneath the chin, ultimately producing a rejuvenated and slimmer chin profile.
Approved by the Food and Drug Administration (FDA) for patients 18 and older, KYBELLA™ may be an excellent option for individuals who are interested in diminishing a noticeable buildup of diet and exercise-resistant fat below the chin without having to endure the recovery and downtime often associated with surgical procedures. Skillfully performed in-office by Dr. Deborah H. Atkin—our experienced dermatologist in San Diego—this innovative treatment can often be completed in about 30 minutes with little to no discomfort, and results are typically long-lasting – many times permanent. For some individuals, multiple treatment sessions may be necessary in order to achieve optimal outcomes.
Currently, KYBELLA™ is the only FDA approved nonsurgical procedure of its kind, and studies have shown an exceedingly high rate of patient satisfaction.
KYBELLA™ Results
*Results May Vary
What to Expect
Treatment with KYBELLA™ can significantly improve the appearance of a double chin through the nonsurgical destruction of submental fat cells. During this customizable procedure, Dr. Atkin will carefully inject the KYBELLA™ solution – which is composed of deoxycholic acid – into targeted fat accumulations underneath the chin using an ultra-fine needle. To help minimize any potential discomfort, a topical numbing agent can often be applied in the treatment area. Some minor bruising and/or swelling may occur after the procedure, though these side effects can generally be concealed with makeup and should diminish over the course of about a week. Most patients are able to resume their normal daily routines within one or two days of treatment, if not immediately.
Length of Time for Treatment – The KYBELLA™ procedure generally takes about 15-20 minutes to complete, depending on the number of injections needed.
Who Will Perform This Procedure? – KYBELLA™ is administered by Dr. Atkin, our board-certified dermatologist.
What is the Recovery Time? – Little to no recovery and/or downtime is typically expected, though minimal swelling and/or bruising may be present for a few days. While not likely, any potential post-treatment soreness or discomfort can often be alleviated with medication.
Final Results of the Procedure – For most patients, initial results tend to become visible after approximately two to four treatments. Up to six sessions spaced at least one month apart may be needed to attain the most effective outcomes. Once final results are achieved, however, retreatment is typically not necessary.
Other Treatments or Skincare Products that May Improve My Result? – Other cosmetic treatments such as Juvéderm® and Botox Cosmetic can often be excellent complements to KYBELLA™. A combination of CoolMini and Kybella can yield a fabulous result. Revisions Nectifirm may be used in conjunction with your Kybella. May be applied twice daily to enhance results.
Contact Dermatology & Laser of Del Mar
Do you have additional questions? Click here to contact our office or schedule a consultation with Deborah H. Atkin, M.D..