Alex TriVantage Laser
Treatment of Brown Spots, Sun Damage, and Tattoo Removal
The Alex TriVantage treatment provides fast, powerful, effective removal of liver spots (lentigos), sunspots, age spots, and other pigmented skin lesions as well as tattoo ink. This is an effective laser skin treatment available from Deborah H. Atkin, MD, one of the leading dermatologists in San Diego.
The Alex TriVantage laser can selectively target and eliminate the pigmented lesion or tattoo pigment without damaging the surrounding skin. In tattoo removal, the effectiveness of the laser is dependent upon the age, location, depth, and type of tattoo, as well as the composition of the pigments.
Variety of Applications
The Alex TriVantage treats a variety of pigmented lesions – as well as tattoo pigments – including black, blue, and green. The Alex TriVantage laser 755nm-wavelength maximizes beam penetration, providing optimal results in the treatment of deeper pigmented lesion conditions like Nevus of Ota, which causes blue hyperpigmentation of the face. At times, this laser maybe used as part of a treatment plan for melasma.
Safe and Effective Treatments
The Alex TriVantage homogeneous beam profile eliminates hot spots, which can alleviate discomfort and adverse effects. It also has the ability to minimize skin texture changes and reduce risk of tissue damage.
Did You Know?
TheALEX TRIVANTAGE LASER laser can also be used to remove birthmarks
What Makes Your Treatment with Dr. Atkin Different than Other Practices Using the Same Technology?
Each laser has its own set of strengths for treating skin conditions. Deborah H. Atkin, MD has access to over a dozen lasers within her practice. So, rather than using one laser to treat your skin, she can combine laser treatments for the best possible outcome. Deborah H. Atkin, MD will personally evaluate your skin, develop a plan of action utilizing the wide range of technology within the practice, and perform every aspect of your procedure.
Results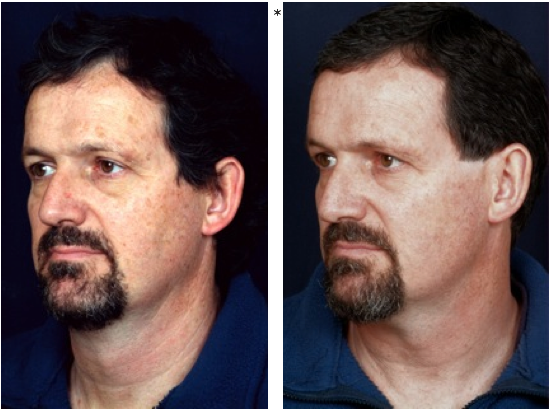 *Results May Vary
What to Expect
There may be mild swelling in the area treated, and you will see a darkening of the pigment (brown spot or tattoo) for a few days. A thin crust may form on the surface of the treated area.  Discomfort ranges from very minimal to none. Patients are made comfortable with ice packs to cool and soothe the skin.
Length of Time for Procedure – Depending on the size of the treated area, this procedure can typically be completed in 30 minutes or less.
Who Will Perform This Procedure? – Deborah H. Atkin, MD, the head of our dermatology practice, will perform this procedure.
What is the Recovery Time? You should not experience any significant downtime from the Alex TriVantage laser treatment.
Final Results of the Procedure? – Within a few days the patient will notice the initial darkness followed by skin lightening as the pigment breaks up.
Other Treatments or Skincare Products that May Improve My Result? – If you have treatment with Alex TriVantage, you may also want to try Rebrightalyze brightening pads, Revisions Intellishade® and SkinMedica Lytera® 2.0 Brightening Complex.
Laser Tattoo Removal with Alex TriVantage Laser
Studies suggest as many as 50 percent of people regret getting one or more tattoos and would like to have them removed. Laser tattoo removal is the only clinically-proven method of removing a tattoo and can do so without causing lasting damage and scarring. During a tattoo removal treatment, laser light is delivered across the affected skin. The light is selectively absorbed by the ink particles in the tattoo, leaving the surrounding skin tissue and chromophores unharmed. The tattoo ink particles soak up the laser energy, heat up, and break apart into smaller ink particles that are less noticeable.
In the days and weeks following the tattoo removal treatment, the body's immune system naturally disposes of the broken down ink particles, causing the tattoo to fade. Over a series of treatments, more and more of the ink shatters, eventually leaving few or no signs of the tattoo.
At our Del Mar dermatology practice, we use the Alex TriVantage Laser by Syneron-Candela® for laser tattoo removal. This Q-Switched Alexandrite laser can destroy black, blue, and green ink particles, removing or lessening the appearance of the tattoo so it may be modified or "covered" with other designs.
What to expect during laser tattoo removal
On the day of your treatment, we will clean the area and apply a topical numbing agent to minimize discomfort. Lidocaine may also be injected into the area if you would like additional anesthetic or the pigment is dense.
The treatment typically takes about 10-15 minutes. The tattoo will initially look white, or charred, then become red. Antibiotic ointment and a non-stick bandage is applied. You will be encouraged to keep the area hydrated with antibiotic ointment and covered for 2-3 days after treatment. The tattoo particles will break apart gradually, and with each subsequent treatment you will see less and less of the tattoo.
Commonly Asked Questions About Alex TriVantage Laser
We have answered some frequently asked questions (FAQs) about the Alex TriVantage Laser to help you find the best treatment for your individual skin care needs and cosmetic goals. Reach out to our team for more information or to schedule a consultation.
What is the ALEX TRIVANTAGE LASER used for?

The ALEX TRIVANTAGE LASER treats unwanted dark spots and birthmarks, and can be used for tattoo removal. Brown spots can be treated in any area of the body.

Does it hurt?

When treating dark spots with the laser you can expect some minor discomfort. This can be managed with a topical numbing agent. Treating tattoos may be a bit more painful, but topical or injectable numbing will be applied.

What should I expect after treatment?

Following the procedure, you will experience a stinging-like sensation on the areas treated, which will subside in about 15-20 minutes. The areas treated will be pink at first but will go back to normal in a few hours or by the next day. The dark spots will be visibly darker, and then flake off in the next 4-7 days.

How many treatments will I need?

The recommended amount of treatments to get a good clearance of brown pigmentation is a series of 1-3, spaced approximately 4-6 weeks apart. Even one treatment will make a difference. Recommendations will vary from person to person, so it is always recommended to come in for a consultation.

How long will my results last?

Results will vary from person to person. Sun avoidance and sunscreen is always recommended. The brown spots that became lighter or went away due to the treatment can become darker and come back with time if there is sun exposure. Due to living in California yearly treatments are recommended if that does occur.
Contact Dermatology & Laser of Del Mar
Do you have additional questions? Contact us to schedule a consultation with Deborah H. Atkin, M.D.