XEOMIN®

XEOMIN® is a cosmetic treatment similar to BOTOX® Cosmetic and Dysport® that can greatly reduce the appearance of facial lines, creases, and wrinkles. Following a round of tiny injections into specifically targeted areas of the face, patients typically experience a more youthful and relaxed appearance. This result is due to a reduction in hyperactive expression lines that can cause such common concerns as frown lines, forehead and brow creases, crow's feet, and depressed corners of the mouth.
While the effects of XEOMIN® are temporary, patients can expect results within days that will last anywhere from 3 to 6 months. An additional benefit however, is the potential for prolonged results due to the ability of the body's collagen to fill in the treated areas. Regardless of the length of time results may last, XEOMIN® can prevent lines from deepening over time, and delay new lines from forming.
As a board-certified dermatologist, Dr. Deborah Atkin performs each XEOMIN® procedure. Informed by years of experience, she takes each patient's muscular structure and unique facial expressions into account as she develops the appropriate treatment method. As Dr. Atkin strives to create natural-looking results that last longer, she often combines XEOMIN® with other laser resurfacing and skin tightening procedures as part of an all-encompassing anti-aging strategy.
XEOMIN® Results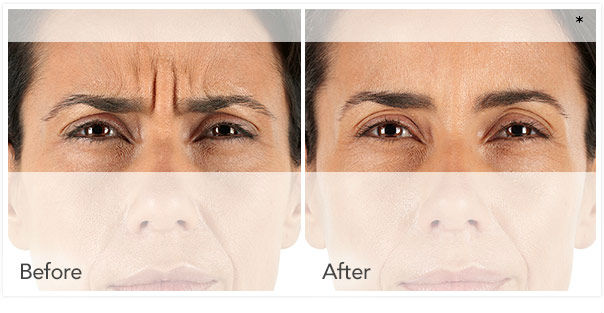 *Results May Vary
What to Expect
Length of time for Procedure: 15 – 30 minutes
Who will perform this procedure? Dr. Atkin performs all injectable and laser skin resurfacing procedures.
What is the recovery time? Little to no recovery time is needed. Temporary swelling and bruising may occur, and Dr. Atkin has supplements she recommends that are able to address and minimize these side effects.
Final Results of Procedure? Full results should be visible within a few days of treatment.
Duration of Results? 3 to 6 months depending on the patient.
Other Treatment or Skincare Products that May Improve my Result? Skin Medica's TNS Essential Serum and HA5 to further stimulate collagen production.
Contact Dermatology & Laser of Del Mar
If you have additional questions, contact our office to schedule a consultation with Deborah H. Atkin, M.D..