There is a #NEWTOX on the block: Introducing Jeuveau™
Meet Jeuveau™, the New- tox on the block. Jeuveau™ (prabotulinumtoxinA-xvfs) an injectable neuromodulator, or wrinkle reducer, used to improve the look of moderate to severe expression lines on the face.
Like Botox, the most well known of neuromodulators, Dysport, and Xeomin, Jeuveau™ is used to treat other areas, like crow's feet around the eyes and smile lines. 
Is one wrinkle reducer "better" than the other?
The short answer to this question is "NO". Each wrinkle reducer on the market is designed to produce a similiar effect, a reduction in lines and wrinkles. We often explain to patients that the differences between neuromodulators are like Coke and Pepsi. Both are sweet, dark colas that taste similar, are caffeinated and cost the same. They are purchased and consumed based on personal preference and availability.
The risks and potential side effects listed by the companies that make Botox and Jeuveau™ are identical.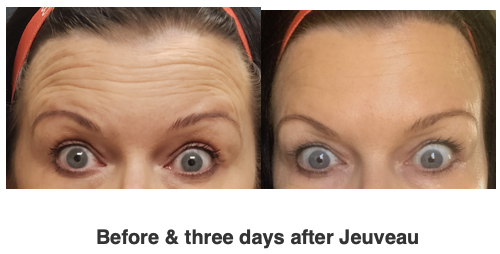 My experience with Jeuveau™ and why you may want to try it :
"I  decided to give Jeuveau™ a try as soon as it was available at Dermatology & Laser of Del Mar. The injection experience, for myself, was identical to that of Botox or Dysport. There was no different sensation during or post injection. I  was able to have my injections and go about my day as  usual. 
What I did notice is that within 24 hours there was improvement in my lines, and there was definitely less movement. At three days there was significantly less muscle activity and my forehead and frown lines were MUCH smoother. Botox generally takes longer to take effect and it is a more gradual improvement when I  am treated. 
The overall result with Jeuveau™ was a smooth natural softening of my forehead wrinkles and frown lines. I am very pleased with my Jeuveau™ results; and will definitely use Jeuveau™ again." — a happy Jeuveau™ Patient
Another reason to try Jeuveau™
During the month of June, and while supplies last, Dermatology & Laser of Del Mar is offering a special promotion to our patients. Schedule any laser procedure* with Dr. Atkin and receive one area of Jeuveau™ for FREE.  This is a $400.00 value and is only valid while supplies last. Call now to secure your  appointment. You'll be glad you tried Jeuveau™.
* laser treatment $600 or more.