JUVÉDERM VOLBELLA® XC
If you're unhappy with the fullness, definition, and/or volume of your lips, an innovative new product can enhance this area with beautiful results. JUVÉDERM VOLBELLA™ XC is an injectable dermal filler that is FDA-approved to augment the lips and reduce the appearance of wrinkles around the mouth. As a top dermatologist, Deborah H. Atkin, MD, offers this long-lasting non-surgical treatment at our state-of-the-art practice.
What Is JUVÉDERM VOLBELLA® XC?

Made by the same company behind other popular dermal fillers, including JUVÉDERM® and JUVÉDERM VOLUMA® XC, JUVÉDERM VOLBELLA® XC is comprised of hyaluronic acid, a substance that occurs naturally in the body. As a result, this product requires no allergy testing prior to treatment. JUVÉDERM VOLBELLA® gel can achieve smooth results without obvious signs of enhancement, and, like many dermal fillers, downtime typically will be very brief. To further improve the patient experience, JUVÉDERM VOLBELLA® contains a local anesthetic to minimize discomfort during injection. Additionally, Dr. Atkin uses advanced techniques and ultra-fine needles to reduce unwanted effects and to make your time with us as pleasant as possible.
What Is the Treatment Experience Like?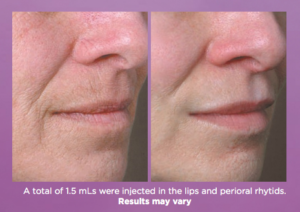 When you arrive for your initial consultation, Dr. Atkin will discuss your cosmetic concerns and evaluate your needs. JUVÉDERM VOLBELLA® treatment often can be completed in 30 minutes or less, although your experience may vary, and many patients choose to schedule their procedure during their lunch break. Dr. Atkin will personally administer the volumizing filler to help ensure you receive the best results in the safest environment possible. JUVÉDERM VOLBELLA® offers immediate results. Side effects, such as bruising, redness, swelling, and tenderness in the treated area, should subside quickly. JUVÉDERM VOLBELLA® offers long-lasting benefits, and you should continue to see the effects for up to one year—possibly even longer. The outcome can be further extended with regular maintenance injections.
Length of Time for Procedure – JUVÉDERM VOLBELLA® can be administered in as little as 30 minutes, depending on the number of injection sites and your unique treatment plan.
Who Will Perform This Procedure? – Our board certified dermatologist, Dr. Atkin, will provide the consultation and perform the procedure. Her training and experience allow her to provide exceptional care and treatment.
What Is the Recovery Time? – Patients should experience little to no downtime. Some mild bruising, tenderness, swelling, and redness at the injection sites is common, and these effects should fade within a few hours to a day.
Final Results of the Procedure – JUVÉDERM VOLBELLA® offers instantaneous augmentation of the lips and smoothing of wrinkles. Dr. Atkin's technique emphasizes a natural-looking result, and the effects can last as long as a year or more, depending on your unique response. The benefits also can be extended with occasional "touch-up" treatments.
Other Treatments or Skincare Products that May Improve My Result? – Other lip enhancement options include a select few other dermal fillers, which Dr. Atkin can recommend based on your anatomic needs and aesthetic goals. If you would like to soften creases around the mouth, JUVÉDERM®, BOTOX® Cosmetic, and other cosmetic injectables can help smooth fine lines and wrinkles quickly and with little downtime. An ideal companion product is HA5 rejuvenation hydrator from SkinMedica®. Our skilled medical team can provide more specific suggestions during your initial consultation.
Contact Dermatology & Laser of Del Mar
Would you like to learn more about JUVÉDERM VOLBELLA®? Contact our office today for more information or to schedule your consultation with Dr. Atkin.