Photodynamic Photorejuvenation
Treatment of Actinic Sun Damage
Board-certified dermatologist Deborah H. Atkin, MD, offers her own unique variation on Photodynamic Photorejuvenation, based on her years of experience treating actinic sun damage and skin cancer.
Actinic keratoses are rough, scaly patches on the skin caused by excessive sun exposure. In some cases, they can progress into dangerous skin cancers (squamous cell carcinomas). About 80% of skin cancers can be prevented by protecting ourselves from the sun's rays, but in cases where possible pre-cancerous lesions do appear, it is important to address them early and further prevent the development of skin cancers.
Treatment
Dr. Atkin will carefully evaluate your skin, skin type and amount of sun damage before selecting a combination of lasers and light sources. Each treatment plan is tailored to give optimal results, as well as ensure a great cosmetic benefit. The combination of lasers, number of treatments and length of treatment will be determined by Dr. Atkin during your consultation. Photofacial, the VBeam Perfecta® laser, the ALEXLAZR laser™, and BLU-U Light therapy are commonly used by Dr. Atkin in combination with Levulan® Kerastick® to destroy rapidly dividing (pre-cancerous) cells, as well as unsightly red and brown lesions caused by photodamage. Dermatology & Laser of Del Mar is internationally recognized for its use of Photodynamic Photorejuvenation. Dr. Atkin has been published extensively in the area, and practitioners often refer their patients to her for therapy. [did_you_know]Did you know Dr. Deborah Atkin has participated in multiple Photodynamic Therapy/ Photodynamic Rejuvenation studies as far back as 1993?[/did_you_know]
Photodynamic Photorejuvenation Results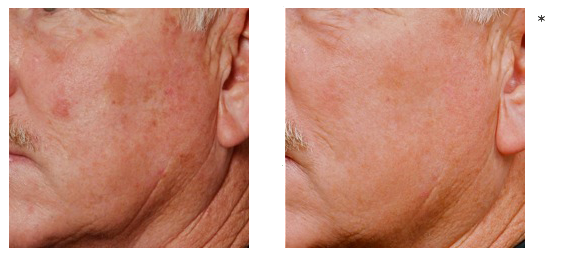 What to Expect
Patients should plan on one to two treatments about 4 weeks apart. There is little downtime involved with this treatment. Mild redness can occur along with a temporary, more pronounced appearance of the actinic lesions. Patients will need to avoid direct sunlight for 24-48.
Length of Time for Procedure –This procedure can usually be performed within 30-45 minutes. However, patients should plan to be in the office for 2 to 3 hours to allow for an appropriate length of incubation time after the Levulan® Kerastick® is applied. Most often patients will bring reading material or work to do while in the office. We also offer free wireless access for your convenience.
Who Will Perform This Procedure? – Our board-certified dermatologist, Deborah H. Atkin, M.D..
Final Results of the Procedure – You should expect a dramatic reduction in the number of actinic lesions as well as an impressive cosmetic benefit from Photodynamic Photorejuvenation.
Other Treatments or Skincare Products that May Improve My Result? Patients benefiting from Photodynamic Photorejuvenation may also benefit from a skin care program including SkinMedica's Vitamin C&E Complex, Retinol Complex and Environmental Defense SPF 50+ sunscreen.
Contact Dermatology & Laser of Del Mar
Contact Dermatology & Laser of Del Mar at 858.350.SKIN (7546) to schedule a consultation.