Radiesse®

Radiesse® offers long-lasting correction of wrinkles and lines in the face, including smile lines, pre-jowls and marionette lines, the lines that extend from the corners of the mouth, and can be used to augment the cheeks.
By stimulating new collagen production with a unique calcium microsphere formula, Radiesse® can restore volume immediately following the first treatment.
This unique filler is also highly effective at restoring fullness to the hands! The aging process can be especially noticeable in the hands, as skin becomes lax and wrinkled with time. Radiesse® can help recover lost smoothness and significantly add volume to the area.
Did You Know?
Nearly 200,000 Radiesse® injections were given last year.
Radiesse® Results
The results of Radiesse® typically last twelve to eighteen months.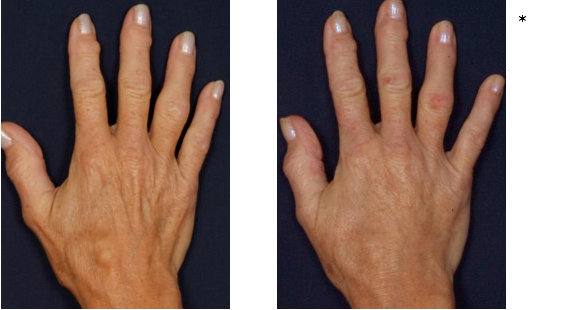 *Results May Vary
What to Expect
The most common treated areas are hands, nasal labial folds and marionette lines, the lines that extend from the corners of the mouth. Temporarily, there can be a mild amount of swelling and some bruising at the injection site. We recommend patients start on a healing supplement to prevent bruising a few days before treatment. This supplement contains Bromelain and Arnica Montana, and can be purchased through our office.
Length of Time for Procedure? 30 minutes depending on areas treated
Who Will Perform This Procedure? All injectables and lasers are performed by Deborah H. Atkin, M.D., board certified dermatologist.
What is the Recovery Time? – There is no downtime associated with this procedure. You should be able to resume your normal daily routine immediately after treatment.
Final Results of the Procedure – The results are immediate.
Other Treatments or Skincare Products that May Improve My Result? Patients enjoying the benefit of Radiesse® may also consider IPL or ALEXLAZR™ laser to remove brown spots from the hands or face.
Contact Dermatology & Laser of Del Mar
Do you have additional questions? Contact our office or schedule a consultation with Deborah H. Atkin, M.D..