Philanthropy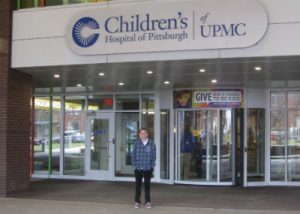 Board certified dermatologist Deborah Atkin, MD and our entire team at Dermatology & Laser of Del Mar are continually impressed with the number of non-profit endeavors created by and supported by our amazing clients.  We look forward to sharing our clients' diverse philanthropic efforts on our website.  If you are involved with a philanthropic program, we would love to hear about it.  To kick off this new page on our website, we are featuring Nick's Picks, the 501c3 charity founded Dr. Atkin's son, Nick Wallace, the following a successful liver transplant. We are incredibly proud of Nick's efforts over the past four years to establish and grow Nick's Picks.
Donate Now
Tax ID #46-1223456
Nick's Picks was founded by Nick Wallace in 2012. Nick's Picks is dedicated to providing fun-filled "Nick's Picks" backpacks to hospitalized and/or isolated children dealing with chronic illnesses.
About the Founder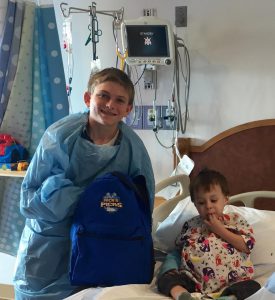 People have always said that Nick is a an expert at entertaining himself. Unfortunately, during his multiple hospitalizations he was really able to perfect the art. When Nick learned in 2012 that a friend whom had always rallied around him was diagnosed with cancer, he knew he was just the guy to help out.
Nick says "I wanted to bring my friend all of the things I had liked the best and the things that were the most fun." He also wanted to let him know that he wasn't alone. "I don't just bring backpacks, I try to bring hope and cheer people up"
Nick's Picks was born out of Nick's naturally giving and hopeful disposition. The first "care package" was in a Von's shopping bag and contained things that Nick had purchased with his allowance. Through partnership with generous sponsors and incredible donors (like you!) we have been able to transform these care packages into awesome backpacks stuffed with a variety of activities, toys and comfort items.
What's in a backpack?
Nick has hand selected and tested all the items in each backpack. Each item has a specific purpose and while Nick is always researching new "picks" the core products in the backpacks are his go-to activity arsenal.
Each backpack contains:
The Mascot! A stuffed white seal, also known as the Seal of comfort
Nick has always loved these adorable, soft friends. His seal, Sealy, even went into the operating room with him for transplant.
Glow in the dark basketball hoop: This is great for exercise and to improve hand eye coordination. It also helps to pass the time at night when the lights are out and it fits perfectly over the cabinet across from the bed.
A boogie board (LED writing board) Now personalized for Nick's Picks! This has been an important tool for Nick, and others. Not only can you play fun games such as tic-tac-toe or hangman or draw with it to express your creative side, Nick found it to be a valuable communication tool when he was on a ventilator. "After transplant I had a tube in to help me breath. I was able to talk to my family by writing on the board. It made things less scary for me, to know I could tell them things, communicate things to the doctors and answer questions."
MadLibs: Because, as Nick put's it, "You need to laugh, even when you don't feel like it."
Lacrosse socks: These are soft, jazzy so you look cool and feel good.
YoYo : A yoyo is one of the items that really helps you pass the time and perfect your skills. Simple and easy entertainment. I learned some great tricks with the yoyo.
Hoven Sunglasses: Nick has a built a great relationship with the folks at Hoven and they have helped make sure there is a pair of glasses in each backpack. "When you are inside, in ICU and/or isolation for a long time your eyes forget how bright the sun can be. You really need sunglasses when you start to go outside again. And the cooler the sunglasses the better!"
UNO cards and Rubix cube: These are great to have because you can play with friends or family when they come to visit. The Rubix Cube can go with you if you have to leave your room to go for tests or treatment. It makes the time pass faster when you are waiting.
A copy of Unlikely Friendships, a book about unique animal friendships.
"I've always felt like reading was a good way to pass my time in the hospital. Sometimes you get tired, or your eyes do, so its nice sometimes to have a book with cool or cute pictures in it to just look at and make you feel good"
A couple of the newer items for Nick's Picks include The NO BUTTON. Nick chose this because of the belly laughs it received when he and his co-founder Lexie tested it out. "Also, because Lexie and I could easily think of several historic events when a No Button would have come in handy "
Nick has also incorporated an art set into backpacks designated for girls. "Lexie, my awesome sister and partner in Nick's Picks thought it would be a great idea. She has spent hours drawing and coloring while she's been at the hospital with me. We hope to have these in the backpacks this fall."
Since it's start in 2012 Nick's Picks has continued to grow and expand. As of 2016 Nick's Picks provides fun-filled backpacks to pediatric patients at:
Rady Children's Hospital
Ronald McDonald House – San Diego, CA
Children's Hospital of Orange County
Mattel Children's Hospital at UCLA
Lucile Packard Children's Hospital Stanford Medical Center
Ronald McDonald House – Stanford Medical Center
Children's Hospital of South Bend Indiana
Akron Children's Hospital of Akron Ohio
Children's Hospital at University of Pittsburgh Medical Center
Mount Sinai Hospital, New York, New York
What can I do to help?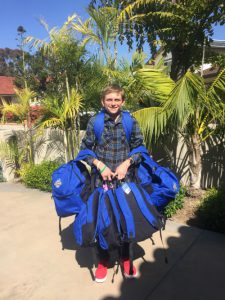 DONATE! Nick's Picks relies on donations to provide backpacks to the centers we serve. Each $50 donation will provide one backpack to a hospitalized and/or isolated youth. Your donations are tax deductible and will certainly bring a smile to the face of a kid in need.
For more information about Nick's Picks, or to make a tax-deductible donation to sponsor a backpack, visit our website at www.nickspicks.org