Eclipse MicroPen™ Elite

Achieving more vibrant, youthful-looking skin just became that much easier with our latest skin rejuvenation procedure. One of the most advanced, sophisticated, and versatile treatments available for reducing fine lines, acne scars, stretch marks, and more, the Eclipse MicroPen™ is designed to gradually improve skin tone and texture on the face, neck, and body with minimal downtime. Our experienced licensed estheticians can perform this therapy for you if you desire subtle, natural-looking enhancement for nearly any area of skin.
For more information about the Eclipse MicroPen™, or to schedule a consultation, please contact us today.
How the Eclipse MicroPen™ Works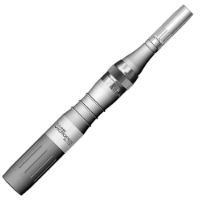 Utilizing a process called Collagen Induction Therapy (CIT), also known as automated micro-needling, the MicroPen™ is a highly customizable device that can stimulate collagen and elastin production in the skin by creating tiny micro-injuries that heal to form fresher, more radiant, and more youthful-looking skin. Equipped with 12 tiny needles that can be adjusted to suit your anatomical needs and cosmetic goals, the handheld device offers precision control to optimize benefits and produce results you typically can see after just one treatment. Furthermore, the micro-channels created can also enhance absorption of skincare products, including creams, serums, and gels, for greater efficacy.
Eclipse MicroPen™ Results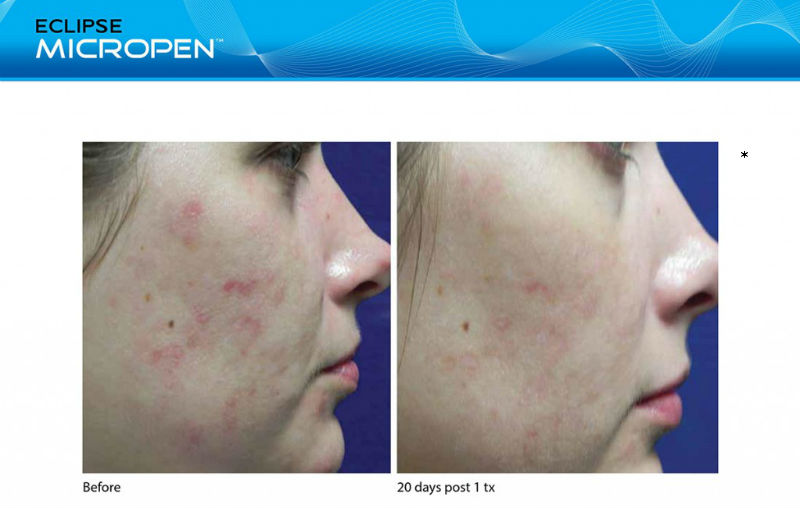 *Results May Vary
What to Expect
During your initial consultation, our esthetician will discuss your cosmetic goals and examine your areas of concern. The treatment will begin with the topical application of a gel, which allows the pen to glide evenly across the skin. Each smooth motion will draw the Eclipse MicroPen™ across the area of concern until the entire region has been addressed. Many patients report the sensation is similar to having light sandpaper brush across the skin. Some areas of the face and body will be more sensitive than others; however, most find the therapy tolerable. Your comfort is a high priority for us, and we will strive to minimize discomfort. Once completed, your skin likely will be red, though this effect should fade within a few days. Some results will be immediately visible, such as a healthy glow of the skin, while additional benefits gradually occur over the course of several days and weeks. One treatment session may be sufficient for your desired outcome; however, additional sessions may be recommended for more comprehensive rejuvenation.
Length of Time for Procedure? Many treatments can be completed in as little as 15 to 30 minutes, though this will depend on the size and number of areas to be treated. While one session may be enough to achieve your cosmetic goals, our skilled skincare professionals may recommend additional treatments to further enhance your outcome.
Who Will Perform This Procedure? Our licensed  Physician Assistant, Danielle Patton, PA-C is specially trained in performing the MicroPen™ procedure, and will provide highly customized results.
What is the Recovery Time? You should expect some moderate redness of the treated area to last between 24 hours and a few days. Depending on the location of the redness and your comfort, you may be able to return to work immediately following the procedure.
Final Results of the Procedure Many patients notice an immediate improvement in the vibrancy of their skin; however, most results will occur gradually over the course of several days and weeks as new collagen and elastin are formed.
Other Treatments or Skincare Products that May Improve My Result? The Eclipse MicroPen™ works wonderfully when combined with our professional skincare product lines, which absorb more fully after the micro-needling treatment. Our friendly and knowledgeable estheticians can recommend the formulas that will offer the best possible outcome based on your unique needs. Other skin care services may be advised depending on your aesthetic goals.
Eclipse Micropen post care forms
Did You Know?
Did you know that microneedling is one of the fastest growing procedures in cosmetic medicine?
Preparing For Your Appointment
Avoid retinoids for 24 hours before treatment
Arrive at our office with a clean face (no makeup)
Post Treatment
Do not wash the area for 12 – 24 hours
You will look as though you have a moderate sunburn and your skin may feel warm and tighter than usual
Use a gentle cleanser the first 48 hours
Avoid retinoids, glycolic acids and vitamin C products for the first 48 hours
Contact Dermatology & Laser of Del Mar
If you have additional questions about the Eclipse MicroPen™ or would like to schedule a consultation with our practitioners, please contact our office today.