Laser Procedures
Advances in laser technology have made it possible to achieve firmer, smoother, and more beautiful skin. At our practice, Deborah H. Atkin, M.D., a board certified dermatologist, offers state-of-the-art laser treatments. These non-surgical techniques are fully customizable to suit your unique needs and goals. In addition to skin resurfacing and hair removal options, we offer skin-tightening treatments that can firm skin on the face and body with minimal downtime. Dr. Atkin and our skilled medical team are extensively trained in all of our laser modalities to help ensure your experience is as pleasant and effective as possible. Furthermore, we take into consideration your skin tone, type, and preferences to preserve your skin's health.
To learn more about the various laser technologies and treatments we offer, please follow the links below or contact our practice today. Our friendly and knowledgeable team can answer your questions and help you schedule a consultation.
Fraxel® Laser Trio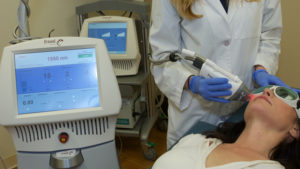 Designed for greater comfort and efficacy, the Fraxel Laser Trio can address a wide range of mild to moderate cosmetic concerns – from common signs of aging to uneven skin tone and texture – with minimal downtime.
Ulthera
®
 Skin Tightening
Ulthera Skin Tightening, also called Ultherapy, this innovative technique can produce firmer and tighter skin on the face and body using ultrasound waves. Great for your brow, chin, neck and décolletage.
INTRAcel™ RF Microneedling
INTRAcel™️ Radio Frequency (RF) microneedling is a fractional radio frequency treatment combined with deep dermal microneedling to treat acne scarring, fine lines and wrinkles, rough skin texture and certain types of stretch marks. 
Smoothbeam™ for Acne
Our advanced Smoothbeam for acne technology can help clear skin and reduce breakouts when topical treatments prove ineffective. This device can be used on the face, chest, back, and other areas of the body with little to no downtime.
Smoothbeam™ for Sebaceous Hyperplasia
Refine your skin and eliminate bumps with Smoothbeam for sebaceous hyperplasia, a condition that can affect middle-aged and older patients. This laser technology can treat this concern with minimal discomfort or downtime.
Photodynamic Rejuvenation
We offer a comprehensive range of state-of-the-art Photodynamic Photorejuvenation therapies that can minimize the appearance of sun damage and reduce the risk of skin cancer caused by actinic keratoses.
V-Beam® Perfecta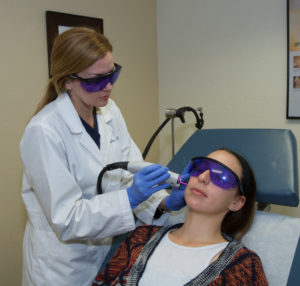 The appearance of rosacea, acne scars, stretch marks, vascular lesions, and veins can be dramatically reduced with V-Beam Perfecta, an advanced pulsed dye laser with an innovative cooling technology.
ALEXLAZR™
Do you have unwanted tattoos, sun damage, or other signs of hyperpigmentation? ALEXLAZR can be used to deliver energy deep into the skin and achieve significant results without causing the discomfort associated with some other laser treatments.
GentleMax® for Hair Removal
Unwanted facial and/or body hair can be a concern for both men and women. Fortunately, the GentleMax laser can provide permanent hair reduction in virtually any area.
GentleMax® for Photorejuvenation
In addition to hair removal, GentleMax can also be used to treat photodamage such as wrinkles, age spots, and hyperpigmentation. Photorejuvenation can help your skin look and feel healthier and more youthful with little to no downtime.
IPL Photofacial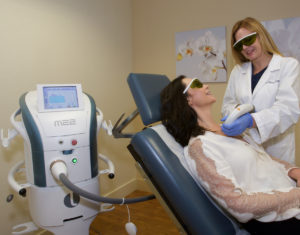 Intense Pulsed Light (IPL) is a light-based therapy that can address a broad array of concerns, including discoloration, spider veins, sun damage, pore size, wrinkles, and more. IPL can be used alone or alongside other skin care treatments.
Photodynamic Therapy with BLU-U Blue Light Acne Therapy
Blemishes are caused by bacteria, so why not destroy those germs with photodynamic and BLU-U blue light acne therapy? This innovative treatment uses light-based technology to achieve long-lasting clear skin.