Rachele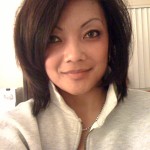 Rachele 34 – Medical Assistant
Skin concerns: acne, post-imflammatory
hyperpigmentation, fine lines, anti-aging
AM Regimen:
Prescription Sodium Sulfacetmide Cream
PM Regimen:
EpiQuin Micro
I was lucky enough to not have problem, acne-prone skin as a teenager. Unfortunately I wasn't able to hide from adult acne. To help me in my fight against acne, hyperpigmentation and anti-aging, I have a good skin care regimen and a great arsenal of trusted products proven to work. In the morning I like to start out with a SkinMedica's Facial Cleanser. It is a light cleanser and not irritating or too drying for my sometimes sensitive skin. After washing I apply a topical prescription acne cream, and Skin Medica's TNS Ultimate Daily Moisturizer with SPF 20+. It's one of my favorite products because it's light enough to not clog my pores, gives me adequate sun protection, and from an anti-aging prespective it contains SkinMedica's TNS NouriCel MD. NouriCel MD, a blend of growth factors and antioxidants, which have been proven to stimulate collagen production and cell growth, fight free-radicals, and reduce inflammation. I finish with a light dusting of GloMinerals make-up and I'm ready for my day!
In the evening I like to wash with SkinMedica's Purifying Foaming Wash. This wash is amazing! It's not just an acne wash, it also contains natural ingredients that help fight bacteria, reduce inflammation, and gently exfoliate my skin. And to further fight hyperpigmentation from "old acne" I like to apply just a pea-sized amount of EpiQuin Micro. EpiQuin Micro contains hydroquinone, a skin lightener, and retinol. My skin has been historically sensitive to some prescription retinol products causing irritation, redness, and flaking. The retinol found in EpiQuin is sensitive enough to not irritate my skin and not cause redness, addressing my occasional acne flares. Depending on the seasons, as my skin tends to be drier in the winter months and oiler in the summer months I like to switch between SkinMedica's Ultrasheer or Rejuvenative Moisturizer.
Another great treatment in my arsenal is photofacial (IPL) with Dr. Atkin to help further reduce any facial discoloration. It's a quick treatment with virtually no downtime! I can usually have a treatment over the lunch hour…and voila! I'm done!
So these are just a few of my favorite things and steps in my skin care regimen. Stay tuned for more of my favorite things!