Melasma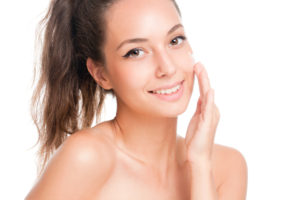 Melasma is defined by the American Academy of Dermatology as "a common skin problem causing brown to gray-brown patches on the face." It usually occurs on the cheeks, bridge of their nose, forehead, chin, and above their upper lip. It also can appear on other parts of the body that get lots of sun, such as forearms and neck.
Melasma predominantly affects women, an estimated 6 million in the U.S. suffer from it, but men are often affected by it as well.
There are several causes of for this condition including:
Pregnancy
Menopause
Changes in birth control status
Sun exposure
Heat
Ethnic type can also play a part in who gets melasma. Darker ethnic types, hispanic, middle eastern, asian or people with darker olive skin tones are more likely to develop this skin condition.
Melasma is a chronic condition and can be very difficult to treat. It can be improved to different degrees, but it will never resolve completely. There are many ways to treat it, the key is finding the right combination therapy for your particular case.
The first step in treating melasma is to see a board certified dermatologist to discuss your case, what the possible causes are and establishing a treatment plan that is realistic for your lifestyle. Sun protection and sun avoidance are key components in your treatment plan. Hydroquinone skin lighteners such as Rebrightalyze pads by Topix, or Triluma cream are recommended as well as Retinol Complex or Retin A to exfoliate and lighten. Plant derived lighteners such as SkinMedica's Lytera Brightening Complex may also be recommended.
Physical block sunscreens with Titanium and Zinc are important for daily application as well as re-application. Many patients in our Del Mar dermatology practice use a Colorescience sunscreen powder for touch-up applications when they are participating in outdoor activities.
An in-office treatment regimen is also important. A combination approach of chemical peels and intense pulsed light (photofacial) are a common result oriented treatment plan. The intensity and frequency of these are often individualized according to the patient and severity of symptoms.
To learn more about your melasma treatment options you may contact Dermatology & Laser of Del Mar to schedule a treatment consultation.