Staff Spotlight: Meet Lexi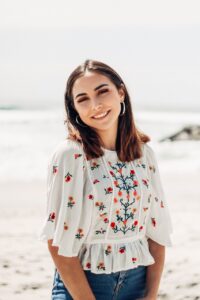 Meet Lexi
Lexi joined Dermatology & Laser of Del Mar in 2019 as a front office coordinator. Her warm personality and easy smile has made her a favorite with patients and co-workers alike.
Lexi was born in Kirkland Washington and after spending years in California's inland empire she relocated to Carlsbad with her family. In her free time Lexi loves to travel and spend time with family and friends. A fan of country music, Lexi never misses the chance to attend live concerts.
"I  come from a very close family. We love to travel together and just spend time together. All my best memories involve trips we have taken and spending family time together in Rosarito and Lake Arrowhead." 
Along with balancing work and family, Lexi is a full time student at Miracosta college.
"Currently, due to COVID-19 I  am taking my classes online. I  have my eye on a career in healthcare after college. My grandfather is a physician assistant and he has always been an incredible role model. I  love helping people and I would love to follow in his footsteps in some way."
Skin Type: Normal-to-oily
Favorite Treatment: I  LOVE the Dermal Infusion (Diamond Glow) It makes my skin feel so clean and fresh. I  had my first Fraxel Dual skin resurfacing treatment a few months ago to treat acne scars. I  cannot believe how great my skin looks after. 
Favorite Product:
SkinMedica Retinol 0.5% is great for all skin types. I use it to prevent acne and keep my complexion clear. It minimizes blackheads and is perfect for anti-aging. 
Tips or tricks: 
I  keep Topix 2/2% pads in my gym bag for after my workout. The salycylic and glycolic acid satured pads are great for keeping acne away.  Also, sunscreen is a must. I keep it in my car, purse, gymbag… everywhere!
Favorite Quote:
"A woman without a man is like a fish without a bicycle" – Irina Dunn