Pro-Nox now available at Dermatology & Laser of Del Mar 
Dermatology & Laser of Del Mar is pleased to introduce Pro-Nox nitrous oxide system for pain and anxiety management during your in-office procedures. Pro-Nox is the perfect way to put the patient in control of their own comfort.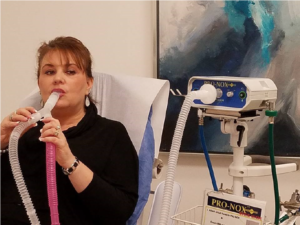 How does Pro-Nox work? 
Pro-Nox delivers a 50% oxygen, 50% nitrous oxide gas mixture via an inhalation tube that you, the patient, controls. Sometimes referred to as "laughing gas", Pro-Nox will allow you to relax and reduce the sensation of discomfort during your procedure.  
Is Pro-Nox safe? 
Pro-Nox is safe and effective. It has been used in dentistry, especially pediatric dentistry, for decades. The effects of Pro-Nox are short-lived and wear off within 10 minutes or so. 
What procedures can Pro- Nox be used for? 
Pro-Nox can be used to control your comfort during Ultherapy, Thermage or Fractional laser resurfacing procedures, for a nominal fee. 
Can I drive after using Pro-Nox? 
Yes, the effect of the Nitrous Oxide leaves your system within a few short minutes of your last puff.  
Contact our office for more information and to find out if Pro-Nox is right for you.