What is the Thulium Refresh laser treatment?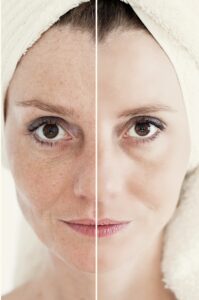 Thulium Refresh is ideal for those that interested in lightening, brightening and freshening up their skin. For those patients that are looking for more major improvements, the Fraxel Dual or Re:Pair 600 micron may be a more effective solution for you.
Thulium Refresh is a FRAXEL 1927nm Thulium laser targets the superficial skin layers for faster clearance of pigment lesions and photo damaged skin.  This sub-ablative laser is also effective in improving skin elasticity, reducing pore size and improving the tone of your skin.  It is most effective in a series of 3 treatments 4-6 weeks apart.
The day of treatment
We ask that you arrive for you scheduled appointment with a clean face. A very strong topical numbing cream will be applied to the treatment area and left on for about 45 minutes.
The treatment will feel a little warm in addition to a pins and needles sensation.
You will feel a little warm and look a little flushed after treatment, but this will resolve quickly. With tinted sunscreen you will look fine for work, or play, even that day! After treatment, a little cold pack is applied for your comfort, along with topical cortisone and tinted sunscreen to camouflage any redness.  It really is that simple! 
Post care is a breeze too. We recommend a gentle cleanser, moisturizer and tinted sunscreen (Intellishade by Revisions is our favorite).  You can go back to your topical skin care regimen within a day or two, with the exception of retinol or tretinoin, those are limited for a week. 
For more information about Thulium Refresh laser treatment, or to schedule a consultation, contact us.