Part One: Q & A with Erika Wright, MS, PA-C
At Dermatology & Laser of Del Mar we understand that educating the patient about their condition and the options for treatment is of the utmost importance. Education and understanding the importance of compliance and the mechanisms of treatment will certainly lead to better outcomes for the patients. For our latest blog series we wanted to share some of our expertise with you in the form of a three part  Q & A article with THE EXPERTS.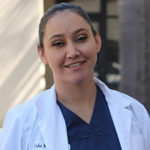 Without further adieu, we would like to introduce you to Part One with Erika Wright, MS, PA-C, our dermatologic physician assistant. 
What is the difference between a dermatologist and a physician assistant? 
A dermatologist, such as Dr. Atkin has completed 4 years of undergrad, medical school, internship and then 2 years of dermatology residency. Dr. Atkin also undertook continued training in laser surgery and as a Master Injector. 
For myself, as a California licensed and Nationally certified Physician Assistant, I  completed 4 years of undergrad studies, a Masters of Science Program and two additional years of training to become qualified. This two years of hands on included clinical rotations in a variety of specialties. It was dermatology that really stuck with me and I made the decision to pursue a career as a dermatologic PA-C. I have 10 years of experience as a Physician Assistant, and 7 of those years are in dermatology and surgery. I  have also received additional training and certifications in a multitude of laser procedures and injectable treatments. 
I  love what I  do and I  love helping people have the healthiest skin possible. 
What are the skin issues you see most at Dermatology & Laser of Del Mar?
I  see many patients with acne and many more with actinic (pre cancerous) sun damage and skin cancers. 
Acne is a very common and treatable skin condition. Laser therapies, light chemical peels and purifying facials, oral antibiotics
and topical creams and gels are all options for treatment. Many patients are concerned with the idea of taking antibiotics for acne and creating any sort of antibiotic resistance in their system. For these patients a combination of laser and topical treatments  can be recommended. 
In the most severe of cases I sometimes prescribe a course of isotretinoin,such as accutane. This is often the "last ditch effort" because there may be risks associated. It is a very heavily monitored drug and requires monthly counseling sessions, monthly lab work and female patients will need to use two forms of birth control while taking it due to the severity of birth defects related to isotretinoin. 
Sun damage is also a very common in our practice, from both a cosmetic standpoint and a health concern. We are in sunny San Diego county after all. 
Actinic keratosis (pre-skin cancers), if left untreated, can result in squamous cell carcinoma.
We suggest that you see a dermatologist once a year for a full body check to make sure there are no suspicious looking spots, moles, or bumps. If you notice anything new or  that seems to be changing, growing or bleeding you should also be seen. 
Pre-skin cancers should always be addressed. They can be treated with liquid nitrogen (freezing them). At-home topical creams can be used with some success. In our practice we perform a large number of in-office laser and light based treatments for pre-skin cancers. Fraxel Laser is very popular, and is one of Dr. Atkin's specialties. Patients love that they get the benefit of treating their pre-skin cancers and they also get a significant cosmetic / anti aging benefit. Their skin is healthier and looks refreshed. 
I  often recommend photodynamic therapy to my patients. This is a procedure that treats entire fields affected by actinic keratosis. Topical gel called Ameluz is applied, and allowed  to incubate in the skin for 2-3 hours. Ameluz is a photo-sensitizing drug that becomes active once it is exposed to specific wavelengths of light. As it incubates it is attracted to and absorbed by rapidly dividing, or pre cancerous, cells. Once it is activated with the appropriate light source the medication starts to break them down and your bosy expels them as waste. What is favorable about this treatment is that you are able to treat the actinic keratoisis you see and any sub-clinical lesions as well. 
I appreciate having so many different options to offer my patients. I  believe by giving patients a choice in treatment plans you will have better compliance and outcomes. 
To schedule a consultation with Erika Wright, MS, PA-C please contact us. 
Stay tuned for Part Two!