Staff Spotlight: Meet Erika W.
Erika joined #teamdermdelmar in 2016 and has quickly become a favorite with patients.  Erika has a great deal of experience in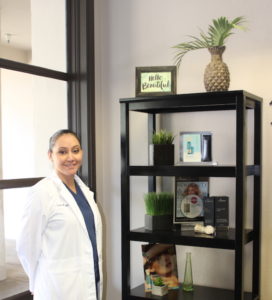 medical dermatology, and is an expert in body contouring.
When she's not at work she's a busy mom with two young boys that keep her very busy! She loves cooking, traveling and hosting her family during visits from Texas.
Skin Type: Normal
Favorite Treatment:
I love Facials and SilkPeels. The TNS Moisture Infusion treatment is the best! It's hydrating and pampering and my skin feels brand new at the end.
Favorite Product:
TNS Eye Repair. I have noticed a real difference around my eyes since I've started using it.
SkinCare Regimen:
Being from a hot and sunny place (El Paso, Texas) I have always tried to do as much as possible for prevention. I use SkinMedica Vitamin C & E Complex in the morning, followed by Total Defense & Repair for sunscreen. At night I use Retinol Complex to stay on top of brown spots, SkinMedica TNS Eye Repair and Dermal Repair for my night time moisturizer. I love the way SkinMedica Dermal Repair feels, it's rich and nourishing and smells great!
Tips or tricks: Wear a hat when you are out, especially during peak hours. Get your kids in the habit of wearing sunscreen when they are little. It's better to start them young and have it be second nature to them.
Favorite Quote: "Everything has beauty, but not everyone sees it" — Confusius