Staff Picks: Tara
Staff Pick:  Tara
Favorite Product: 
HA5 Rejuvenating Hydrator from SkinMedica. HA5 hydrates long term, helps decrease fine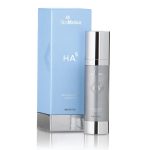 lines and makes your skin look refreshed and plumped.  A little HA5 in the morning makes your make up look and wear great! It can be applied to clean, damp skin after cleansing. A quick tip: dampness to the skin helps the product to spread more evenly. 
Who should use it?
Everyone! You start to lose hyaluronic acid in your skin as you approach your 20's. On average, you lose one percent every year, so by the time you are 50 you have thirty percent less hyaluronic acid in your skin that you did at 18. This compromises your skin's ability to retain moisture and to recover from environmental damage. It is not uncommon for your skin to become more sensitive and easily irritated.
SkinMedica HA5 is a blend of five different hyaluronic acid molecules that work together to restore your skin's ability to heal, retain moisture and decrease irritation. You skin will look and feel healthier and happier. 
VBeam Perfecta Laser

is great for anyone with redness, blood vessels or veins on their face. It is also used to help combat acne and acne scarring. It evens out your complexion with no downtime.
VBeam Perfecta is easy to tolerate, post procedure swelling is minimal and can be easily alleviated by taking an anti-histamine and applying a cold compress. 
For best results with VBeam Perfecta Laser, Dr. Atkin  usually recommend 3-4 treatments, 4-6 weeks apart. 
For more information about SkinMedica HA5 Rejuvenating Complex, or to schedule your VBeam Perfect Laser treatment contact us.