FAQ's Collagen Induction Therapy (MicroPen) with PRP
What is Collagen Induction therapy with PRP?
Collagen Induction Therapy with PRP, also known as MicroPen or MicroNeedling is a cosmetic procedure which offers a variety of anti aging benefits. 
The treatment involves drawing a small amount of blood from your arm, separating the out the plasma and platelets from the red blood cells, and then adding the platelet-rich plasma back into your skin. The platelet-rich plasma (PRP) is reintroduced to the skin through small micro channels created by a sterile,  single-use surgical grade disposable needling device.
Once the the PRP is applied and absorbed in your skin, a healing cascade occurs that encourages the formation of new collagen.
What are the benefits?
Patient see an impressive improvement in fine lines and wrinkles, and the overall tone and texture of their skin. 
What is the downtime after treatment? 
You are somewhat red and have a minor amount of swelling for about 12-24 hours. You may find that your skin is a bit "bronzed" the next day as you heal. This can be camouflaged with a tinted sunscreen or light foundation.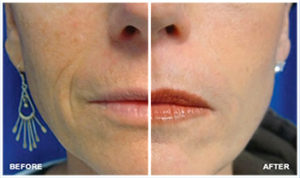 Is is painful? 
The procedure begins with having your blood drawn, similar to when you go to have lab work performed. This can be uncomfortable, but is very quick. We use a high potency topical numbing agent for the procedure that alleviates any discomfort during the procedure. There is generally no discomfort after the procedure. 
How many treatments will I  need?
We recommend four treatments, about a month apart. Most patients love the results and decide to have annual treatments performed to maintain the results. 
How do I  know if it's right for me?
You can schedule a consultation with us by calling (858) 350-7546. We can explain the procedure to you in more detail, evaluate your concerns and help you design a treatment plan which will meet your needs.