Acne: What is an acne surgery?
At Dermatology & Laser of Del Mar we offer a multi-faceted  approach to treating acne. Acne is not a "one size fits all" condition and we have found over time and with experience that each patient's treatment plan needs to be customized to their individual skin needs. 
Different factors are considered when forming an acne treatment plan. The patient's age, type of acne and severity are the key factors. Lifestyle, outdoor activites and skin type are also points to consider.  Considering all of these elements, your healthcare provider may propose a combination of oral supplements, topicals, laser or light therapies and facial treatments. One such treatment is acne surgery.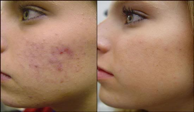 Acne surgery is a treatment performed by our medical esthetician, under the supervision of Deborah H. Atkin, board certified dermatologist. Acne surgery is a procedure where the esthetician  performs a deep cleansing of the skin, then applies steam and an exfoliating agent to soften any comedones (black heads) or milia. Special sterile instruments are used to extract the black heads, white heads and comedones  without causing any unnecessary trauma to the skin. When appropriate, the esthetician will also apply a special blend of alpha and beta hydroxy acids to the skin in order to reduce any inflammatory lesions and further clear the pores. 
A face mask is applied to calm the skin and / or draw out any additional impurities. Once that is removed the last step is a soothing application of liquid nitrogen (cryotherapy) to close the pores and calm the skin.  
Acne Surgery can be billed through most commercial PPO insurance plans. We can also accept payment through your flex spending account. The treatments can be performed 1-2 times per month and are appropriate for the face, neck, chest or back. 
For more information about about Acne Surgery or to find out how to schedule, contact our office.