Staff Product Pick : Intellishade Original (Revision Skincare)
Staff member: Lita
Product : Revision Skincare Intellishade – Original
It's hard for me to pick just one product! Revision's anti-aging SPF, Intellishade, is my all time favorite sunscreen. It goes on smoothly, and evenly. It's a tinted sunscreen that is incredible in that it matches almost all skin tones. I  am very fair, never tan and it matches my skin tone as perfectly as my daughter's. She is olive completed and tans easily.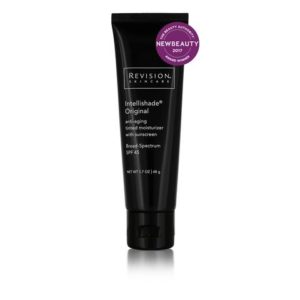 When I  started using Intellishade as my daily sunscreen I  realized it gave me better coverage than my liquid foundation, so I use it as a sunscreen-moisturizer and foundation all in one! Just a little ColorScience mineral powder on top and I  am ready to go!
I  use my intellishade everyday. Even if I  am not going to be out other than to go to the car and into work. It's very moisturizing, and that is important to me as I  tend to be VERY dry. 
It contains peptides, Coq10, Vitamin E and Lecithin for anti-aging benefits. It also has a pore minimizing effect and I  love having a more matte finish to my skin!
Try it! I  think you'll love it too.