Staff Pick : Lita
 

Staff Pick Lita

Favorite Product:

How do I  choose just one? Intellishade Original by Revisions Skin Care is my go-to sunscreen. I  wear it daily, it is actually what I 


use for my make up foundation. It's tinted and the tint matches all skin tones. It is super hydrating, does not clog pores and has potent anti aging properties.  I  recommend this product to everyone!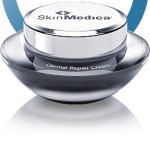 I also LOVE, LOVE,  LOVE SkinMedica Dermal Repair Cream. I consider this my skin's daily dose of multivitamin. I use it morning and night, especially in the winter. I tend to have very dry skin and Dermal Repair keeps my skin looking and FEELING healthy, hydrated and happy.
Favorite Procedure:
My personal favorite is Botox for my platysmal neck bands, jawline and in my lower face to elevate my mouth corners.
I  suffer from Bruxism, which means I  grind my teeth.  Botox reduces my ability to clench my jaw, so I  don't grind my teeth the way I  used to.
I also have very pronounced neck bands. The neck bands tend to pull the skin forward and over time has given my neck a bit of a saggy appearance. It also relaxes the neck bands giving me more contour in my neck and jawline. I think it actually makes my neck look longer!
When I have my DEPRESSOR ANGULI ORIS muscle (the facial muscle associated with frowning) treated it elevates my mouth corners, essentially "turning my frown upside down". It gives you a more relaxed, approachable appearance. It also reduces the appearance of your marionette lines.
For these types of Botox treatment we usually recommend 2-3 times a year. There is no downtime, although I  have gotten a couple small bruises in the past. I    notice a difference after about 3-7 days. 
For more information about Intellishade, SkinMedica Dermal Repair or to schedule a Botox consultation / treatment, contact us