It's That Time Of Year!!!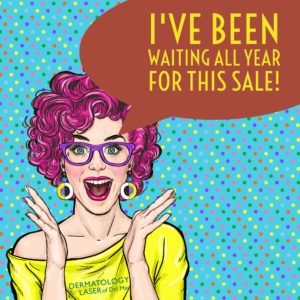 WHY WAIT FOR BLACK FRIDAY?
Our Annual Pre-Thanksgiving Blow-out Sale is HERE!
There has never been a better time to get a start on your New Years resolutions, we have offers for everyone! If you don't see that perfect package for you, or someone special,  purchase a Derm Del Mar gift card and receive up to 15% back to create your own great deals.
Our Annual Pre- Thanksgiving event is Monday November 20th from 10a-2pm.
Call, or come by, and take advantage of the savings on your favorite procedures and products.
Are you Brilliant Distinctions (BD) member? Combine your BD points for more savings. Not a member yet? It's not to late to join and take advantage of all that BD has to offer.
Call (858)350-7546 to start saving!!
---
Don't see what you are looking for? Purchase a gift card and create your own treatment package!!
Purchase up to $1,000, receive an additional 10% back!
Purchase over $1,001 receive 15% back!!
---
Save on product and save your skin!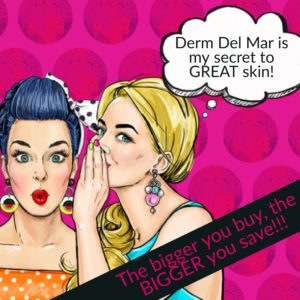 ---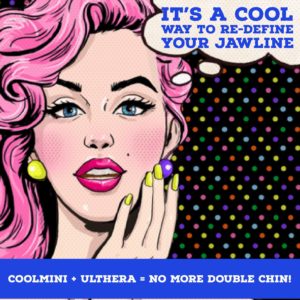 Turkey Necks are for the BIRDS!
Cool Mini + Ulthera = NO MORE TURKEY NECK!!  Save on this fabulous combination treatment
CoolMini* + Ulthera for the jowl and submental $3100 (value) – $700 (savings) = $2400 (cost)
Want more lift? UPGRADE to Full face and Full Neck treatment with your CoolMini
FULL FACE AND NECK with COOLMINI* $5300 (value) – $1060 (savings)= $4240 (cost)
 SAVE $40 OR MORE WITH BRILLIANT DISTINCTIONS  
LEARN MORE ABOUT COOLMINI + ULTHERA 
*CoolMini cycles may be substituted for 2 Coolsculpting treatment cycles for a different body area. Additional cycles may be added on at a discounted price.
---
$500 OFF a Package of 4 ThermiSmooth!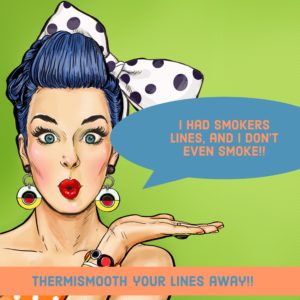 ThermiSmoothRF those lines away!! ThermiSmoothRF  is a safe, gentle, no downtime way to smooth away those fine lines from around your mouth and eyes.
$2000 (value) – $500 (savings) = $1500 (cost)
---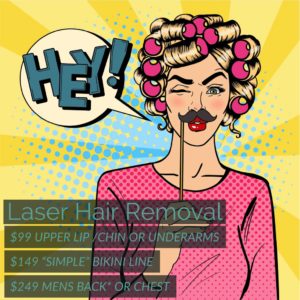 Laser Hair Removal 
$99 per treatment for upper lip, chin or underarms.
$149 per Treatment bikini line / $349 mens back or chest
Prepay for up to three and lock in the pricing. 
LEARN MORE ABOUT LASER HAIR REMOVAL
---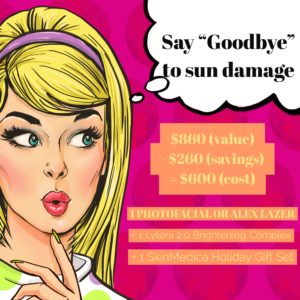 Say "GOODBYE" to Sun-damage Package
One Photofacial / Alex Lazer treatment
One Lytera 2.0 Brightening Complex (or rebrightalyze HQ pads)
One SkinMedica Holiday Gift Bag (includes AHA/BHA Cleanser, Retinol 0.5%, HA5 Rejuvenating Hydrator, Total Defense & Repair-tinted and Dermal Repair)
$860 value – $260 savings = $600 cost
---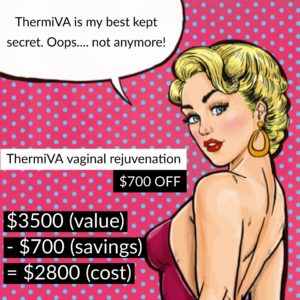 Up Your Lady Game with THERMIVA Vaginal Rejuvenation 
Quickly becoming one of our most sought after treatments
$3500 value – $700 savings = $2800 cost
---
Body By Thermage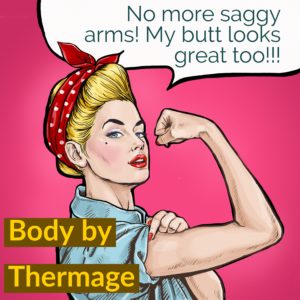 $800 OFF  one treatment area or $1800 OFF two treatment areas
Great for abdomen, arms, thighs, or butt!
1 area – $3000 value – $800 savings = $2200 Cost
2 areas – $6000 value – $1800 savings = $4200 Cost
LEARN MORE ABOUT BODY BY THERMAGE
---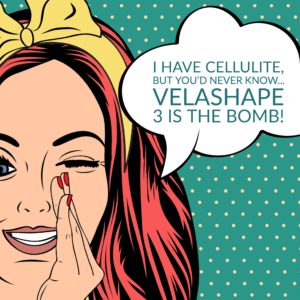 Velashape III 
Purchase 4 treatments , receive 2 FREE + 1 FREE  Replenix ProRetinol Body Lotion
Velashape III Smooths cellulite, provides circumference reduction, firms the skin and reduces small unwanted fat pockets.
$1575 (value) – $375 Savings = $1200 (cost)
LEARN MORE ABOUT VELASHAPE III
---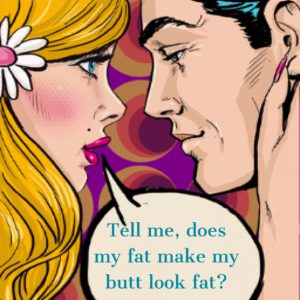 Ultrashape POWER / Velashape III combination 
$1500 OFF Package of 3 treatments
$4000 (value) – $1500 (savings) = $2500 (cost)
Belly Buster / Saddlebags / Love handles
Ultrashape POWER and Velashape III combo packs a big punch in the fight against unwanted fat. Ultrasound, radio frequency, infrared and massage are used to heat up, breakdown and "flush out" your unwanted fat. You will see a difference in your fat, cellulite and skin texture.
LEARN MORE ABOUT THIS POWER COMBO
---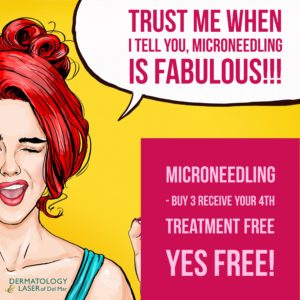 MicroPen Elite "microneedling" Treatment  Buy 3, get one FREE ($300 value)
MicroPen Elite (microneedling) is great for fine lines, wrinkles, scarring and rough texture. You will see a visible and tactile difference in your skin after even one treatment! It is also a favorite for improving sundamage and brown pigment.
LEARN MORE ABOUT MICROPEN (MICRONEEDLING)
---
40% Microdermabrasion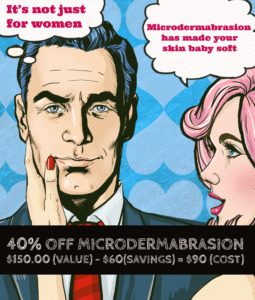 Microdermabrasion is the gold standard in exfoliating treatment! Clear your pores, soften fine lines and brighten your skin!
$150 (Value) – $60 (savings) = $90.00 (cost)
Pre-pay for one for you, and one for someone special! Makes a great Christmas gift!!!