Staff Spotlight: Meet Laura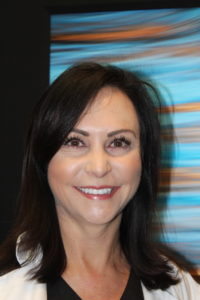 Laura is the "den mom" to  #teamdermdelmar. She's our practice administrator, front office coordinator, cheerleader and party planner. We would be lost without Laura!
Laura came to Dermatology & Laser of Del Mar in 2013 when she relocated to San Diego from Redlands. She, her husband and two kids live in Carlsbad with their four legged friends Zoey and Kaiser. When Laura isn't at the office she loves to entertain and spend quality time with the family. She loves to travel, and her entire family, including her parents and siblings, in-laws, nieces and nephews take a vacation together every summer. As soon as they return the begin planning the next excursion.
Age : 39….. maybe 40….. or is it 49?
Skin Type: Normal
Favorite Treatment: I have to choose one?? Botox to keep my lines away. VBeam for Redness and Ultherapy for tightening.
Favorite Product: It's hard to choose … but if I were stranded on an island, and I could only have one product, it would be TNS Essential Serum. But I love the Total Defense & Repair too.
Skin Care Regimen: 
AM
Cleanse then toner
TNS Essential Serum
Lytera 2.0
TNS Illuminating Eye
HA5 with Total Defense & Repair on top!
PM
Cleanse then toner
TNS Recovery Complex- I use the Essential Serum during the day for my antioxidant protection
Retinol Complex (SkinMedica) mixed with Lytera 2.0
Replenish Hydrating Cream to moisturize
Tips and tricks?
Big sunglasses are great for preventing crows feet. Also, if you have sensitive skin use your retinol every other night to prevent irritation.
Favorite Quote: "Pretty is as pretty does"– unknown