Introducing FRI-YAAAAY's at Dermatology & Laser of Del Mar
Every Friday through the end of 2019 we will be offering a weekly Fri-YAAAY deal.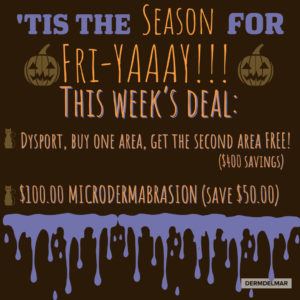 These offers are valid for one day, FRIDAY ONLY,  and will change weekly.
How do you take advantage of the Fri- YAAAY deal? 
It's easy! Join our text list to receive these exclusive deals. They will ONLY be available to our text subscribers. 
The weekly Fri-YAAAY deal will be announced via text on Wednesday morning, and be valid for that Friday. This is your opportunity have your favorite procedures or purchase your favorite products at a steep discount. 
How do I  sign up for the text list? 
Text the word SKIN to 474-747. You will receive a confirmation that you are registered. You can stop receiving text alerts at anytime by simply texting the word STOP to 474-747.
Have more questions about Fri-YAAAY?
No problem! Contact us, we are always happy to answer questions. We look forward to seeing you for Fri-YAAAY.