Dermatology & Laser of Del Mar Celebrates National Botox Day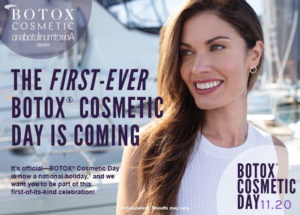 Wednesday, November 20, 2019 is the first official National Botox Day.
To celebrate Allergan, the makers of Botox, is offering a Botox gift card BOGO. Purchase a $100.00 Botox gift card and receive an additional $100.00 gift card for FREE!
To sweeten the deal Dermatology & Laser of Del Mar is offering an additional $50.00 OFF your Botox treatment. This offer is only valid for this Wednesday, November 20. 2019. We will also be offering 15% OFF all SkinMedica products, refreshments and some great giveaways.
How do I

 

get the deal?
First, you must be a Brilliant Distinctions member. Follow this link to sign up and request a reminder call when the Botox gift cards go on sale November 20th.  Next, log on to BotoxCosmetic.com the morning of November 20th and purchase your gift card's. There will only be 40,000 available nationwide, so log on early!
Schedule your botox appointment for November 20th. Space is limited, so call asap.  Once you have purchased your gift cards and have your confirmation and gift card numbers take a screen shot. We will need those gift card numbers to  redeem them.
When you come in for your appointment, be sure to bring your gift card numbers. You will receive an additional $50.00 off in-office, compliments of Dermatology & Laser of Del Mar. You will also receive a SkinMedica travel bag loaded with trial size products, bounce back coupons and more!
If you have any questions about National Botox Day, or to schedule your appointment and save contact us.