Introducing The "No Down Time" Thulium Refresh Laser Peel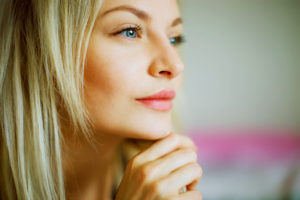 I am a bit of a self professed skin care junkie. In addition to my at-home regimen of potions and lotions I have my own in-office regimen directed by my favorite dermatologist, Deborah H. Atkin, M.D.
I have been seeing Dr. Atkin since 2004, we have a standing date every 6 months to check all my lumps, bumps and freckles.
We also review my list of products, tweaking it as needed. She makes suggestions for in-office treatments to keep me looking my best as I approach my fiftieth (50th) birthday. My usual twice yearly "youth-enizing" consists of a little Botox, Restylane and an occasional Photofacial for sun spots.
As summer ended this year, I realized my skin had taken as especially hard hit. I was in Hawaii for 3 weeks and had treated myself to sailing lessons. Even though I covered myself with sunscreen, kept a hat and sunglasses on, I had still acquired more sun damage than expected. Dr. Atkin suggested I schedule a Thulium Refresh Laser Peel. This would give me more improvement than my go-to Photofacial, more on par with a Fraxel, but with NO down time.
The day of treatment
I arrived at my scheduled appointment with a naked face. A topical numbing cream was applied and the nurse explained that I would want to keep my skin moisturized and use a tinted sunscreen after treatment. This wasn't a problem because I am already great about my moisturizer and sunscreen.
Before we started the treatment, Dr. Atkin explained that we were using a laser wavelength that would treat my brown sun damage as well as help to firm my skin,  stimulate a little collagen, and even decrease some pre-skin cancer changes! I would feel a little warm and look a little flush after treatment, but this would resolve quickly. With tinted sunscreen I would look fine for work, or play even that day! The treatment felt a little warm and there was a bit of a pins and needles feeling. All-in-all the treatment was quick and was never too uncomfortable.
The next day
Dr. Atkin was right about the tinted sunscreen! I applied a little SkinMedica Essential Defense and my Colorescience powder on top and I had a bit of a sun-kissed look. The thing I loved was that I was getting compliments on how great my skin looked the day after my treatment.
One month later
If I thought I looked great 1-2 days later, one month later I look fabulous! I have noticed a reduction in my pore size and those fine lines around my eyes and mouth. My skin has a healthy glow to it that I love. The Thulium Refresh was definitely the right choice for me. With my updated skin care regimen (I love the HA5) I will keep my skin looking fabulous as I approach 50!
The NEW Thulium Refresh Laser Peel is exclusive at Dermatology & Laser of Del Mar. For more information, or to schedule a consultation contact us.