San Diego Dermatologist Now Offers Belotero Dermal Filler to Improve Wrinkles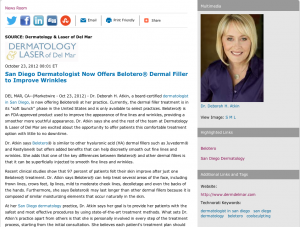 Del Mar, CA–Deborah H. Atkin, M.D., a board-certified dermatologist in San Diego, is now offering Belotero® at her practice. Currently, the dermal filler treatment is in its "soft launch" phase in the United States and is only available to select practices. Belotero® is an FDA-approved product used to improve the appearance of fine lines and wrinkles, providing a smoother more youthful appearance. Dr. Atkin says she and the rest of the team at Dermatology & Laser of Del Mar are excited about the opportunity to offer patients this comfortable treatment option with little to no downtime.
Dr. Atkin says Belotero® is similar to other hyaluronic acid (HA) dermal fillers such as Juvederm® and Restylane® but offers added benefits that can help discreetly smooth out fine lines and wrinkles. She adds that one of the key differences between Belotero® and other dermal fillers is that it can be superficially injected to smooth fine lines and wrinkles.
Recent clinical studies show that 97 percent of patients felt their skin improve after just one Belotero® treatment. Dr. Atkin says Belotero® can help treat several areas of the face, including frown lines, crows feet, lip lines, mild to moderate cheek lines, decolletage and even the backs of the hands. Furthermore, she says Belotero® may last longer than other dermal fillers because it is composed of similar moisturizing elements that occur naturally in the skin.
At her San Diego dermatology practice, Dr. Atkin says her goal is to provide her patients with the safest and most effective procedures by using state-of-the-art treatment methods. What sets Dr. Atkin's practice apart from others is that she is personally involved in every step of the treatment process, starting from the initial consultation. She believes each patient's treatment plan should be customized to their own individual needs as her highly-trained staff at Dermatology & Laser of Del Mar facilitate a relaxing and comfortable environment and quality patient care.

About Deborah H. Atkin, MD
Dr. Deborah Atkin completed her undergraduate education from CSU Northridge and earned a Bachelor of Science degree in Dietetics from UC Santa Barbara. She completed her specialty training in dermatology at the University of Arizona and obtained medical school training at UCLA. Upon graduating from UCLA, Dr. Atkin received the UCLA School of Medicine award for Outstanding Community Service for helping organize the first student-run medical clinic geared towards the homeless.
She is experienced in a number of procedures, including Ulthera®, BOTOX®, Thermage® and Coolsculpting by ZELTIQ™ and the Fraxel® Trio of lasers. Dr. Atkin is currently an active volunteer for the American Cancer Society and the American Liver Foundation, and previously served as a surgical volunteer for the African Medical Mission in South Africa. She is a member of a number of professional organizations, including the American Society for Dermatologic Surgery, American Academy of Dermatology and the American Society for Laser Medicine and Surgery.
Dermatology & Laser of Del Mar is located at 12865 Pointe Del Mar Way, Suite 160 in Del Mar, CA. Dr. Atkin and her team can be reached at (858) 350-7546, or online at dermdelmar.com and facebook.com/dermdelmar.