San Diego Dermatologist to Host 90 Day Challenge for Face and Body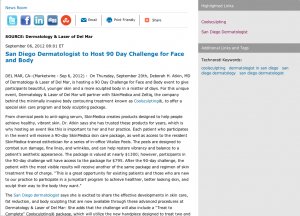 Del Mar, CA — On Thursday, September 20th, Deborah H. Atkin, MD of Dermatology & Laser of Del Mar, is hosting a 90 Day Challenge for Face and Body event to give participants beautiful, younger skin and a more sculpted body in a matter of days. For this unique event, Dermatology & Laser of Del Mar will partner with SkinMedica and Zeltiq, the company behind the minimally invasive body contouring treatment known as Coolsculpting®, to offer a special skin care program and body sculpting package.
From chemical peels to anti-aging serum, SkinMedica creates products designed to help people achieve healthy, vibrant skin. Dr. Atkin says she has trusted these products for years, which is why hosting an event like this is important to her and her practice. Each patient who participates in the event will receive a 90-day SkinMedica skin care package, as well as access to the resident SkinMedica-trained esthetician for a series of in-office Vitalize Peels. The peels are designed to combat sun damage, fine lines, and wrinkles, and can help restore vibrancy and balance to a patient's aesthetic appearance. The package is valued at nearly $1300; however, participants in the 90-day challenge will have access to the package for $795. After the 90-day challenge, the patient with the most visible results will receive another of the same package and regimen of skin treatment free of charge. "This is a great opportunity for existing patients and those who are new to our practice to participate in a jumpstart program to achieve healthier, better looking skin, and sculpt their way to the body they want."
The San Diego dermatologist says she is excited to share the effective developments in skin care, fat reduction, and body sculpting that are now available through these advanced procedures at Dermatology & Laser of Del Mar: She adds that the challenge will also include a "Treat to Complete" Coolsculpting® package, which will utilize the new handpiece designed to treat two and a half times the area in half the time as the original procedure. "Coolsculpting® provides a safe and effective method of fat reduction with minimal discomfort and no downtime. This is the answer to those unwanted bulges that never seem to budge with diet and exercise."
As a San Diego dermatology practice, Dr. Atkin focuses on a wide range of skin and body procedures designed to help increase her patients' aesthetic appearance and treat uncomfortable conditions that may affect confidence and daily routines. Through procedures such as CoolSculpting®, she says patients have the opportunity to make a positive change in their lives by improving their self-esteem and revealing their natural beauty. Dr. Atkin says events like the one on September 20th provide an excellent chance for her to share the benefits of dermatological procedures, an experience she says is both rewarding and inspiring. She says she hopes to increase patient awareness and education about the advantages of minimally-invasive procedures in achieving successful results.
Dr. Atkin says she is looking forward to the challenge and hopes patients gain a unique understanding of the state-of-the-art technologies available in the field of dermatology. She says experiencing techniques like CoolSculpting® offers patients the chance to gain invaluable knowledge in their pursuit of a younger, more vibrant appearance. As with any medical procedure, Dr. Atkin recommends her patients consult with a board-certified and qualified dermatologist before undergoing any treatment so as to ensure they receive the highest quality results possible.
This event will be held on September 20, 2012 from 5:30pm-7pm at Dermatology & Laser of Del Mar. The CoolSculpting® presentation will be performed by Kaci K. Orosco, a board-certified Physician Assistant with five years of experience in the field. Kaci has performed hundreds of treatments on patients under the direct supervision of Dr. Atkin.
About Deborah H. Atkin, MD
Dr. Deborah Atkin earned her medical degree from the University of California, Los Angeles with honors in surgery, receiving the UCLA School of Medicine Outstanding Community Service award. She completed her dermatology specialty training at the University of Arizona, Tucson after training during an internship in Internal Medicine at Scripps Clinic and Research Foundation. Dr. Atkin is an active member of the American Academy of Dermatology, the American Society for Dermatologic Surgery, and the American Society for Laser Medicine and Surgery. She is an active volunteer with the American Cancer Society and the American Liver Foundation, receiving the 2004 Combined Health Agencies San Diego Volunteer of the Year Award.
Located at 12865 Pointe Del Mar Way Suite 160 in Del Mar, CA, Dermatology & Laser of Del Mar can be reached at (858) 350-7546. Dr. Atkin and her team can also be contacted online via the website dermdelmar.com or facebook.com/dermdelmar.