San Diego Dermatologist Revitalizes Tired Skin with Nonsurgical Ulthera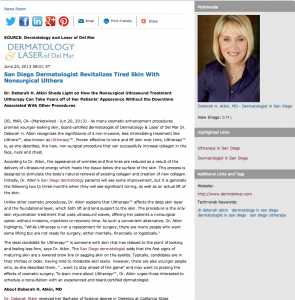 Deborah H. Atkin, M.D. sheds light on how the nonsurgical ultrasound treatment Ultherapy™ can take years off of her patients' appearance without the downtime associated with other procedures.
Del Mar, CA – As many cosmetic enhancement procedures promise younger-looking skin, board-certified dermatologist of Dermatology & Laser of Del Mar Deborah H. Atkin, M.D. recognizes the significance of a non-invasive, less intimidating treatment like Ulthera™, also known as Ultherapy™. Proven effective to tone and lift skin over time, Ultherapy™ is, as she describes, the new, non-surgical procedure that can successfully increase collagen in the face, neck and chest.
According to Dr. Atkin, the appearance of wrinkles and fine lines are reduced as a result of the delivery of ultrasound energy which heats the tissue below the surface of the skin. This process is designed to stimulate the body's natural renewal of existing collagen and creation of new collagen. Initially, Dr. Atkin's San Diego dermatology patients will see some improvement, but it is generally the following two to three months when they will see significant toning, as well as an actual lift of the skin.
Unlike other cosmetic procedures, Dr. Atkin explains that Ultherapy™ affects the deep skin layer and the foundational layer, which both lift and lend support to the skin. The procedure is the only skin rejuvenation treatment that uses ultrasound waves, offering her patients a nonsurgical option without incisions, injections or recovery time. As such a convenient alternative, Dr. Atkin highlights, "While Ultherapy is not a replacement for surgery, there are many people who want some lifting but are not ready for surgery, either mentally, financially or logistically."
The ideal candidate for Ultherapy™ is someone with skin that has relaxed to the point of looking and feeling less firm, says Dr. Atkin. The San Diego dermatologist adds that the first signs of maturing skin are a lowered brow line or sagging skin on the eyelids. Typically, candidates are in their thirties or older, having mild to moderate skin laxity. However, there are also younger people who, as she describes them, "…want to stay ahead of the game" and may want to prolong the effects of cosmetic surgery. To learn more about Ultherapy™, Dr. Atkin urges those interested to schedule a consultation with an experienced and board-certified dermatologist.
About Deborah H. Atkin, MD
Dr. Deborah Atkin received her Bachelors of Science degree in Dietetics at California State University, Northridge and UC Santa Barbara. Her medical degree was earned from UCLA, and her dermatology specialty training was completed at the University of Arizona, Tucson. In the past, she has volunteered in South Africa for the African Medical Mission, and she continues to participate in the American Cancer Society and the American Liver Foundation. She is a member of the American Academy of Dermatology, the American Society for Dermatologic Surgery, the American Society for Laser Medicine and Surgery, and the American Dietetic Association. Dr. Atkin is available for interview upon request.