Dermatologist First in Del Mar to Offer JUVÉDERM VOLLURE®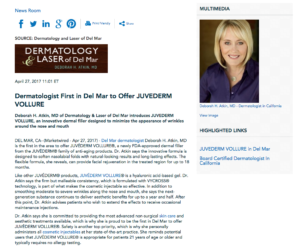 Deborah H. Atkin, MD of Dermatology & Laser of Del Mar introduces JUVÉDERM VOLLURE®, an innovative dermal filler designed to minimize the appearance of wrinkles around the nose and mouth.
Del Mar, CA — Del Mar dermatologist Deborah H. Atkin, MD is the first in the area to offer JUVÉDERM VOLLURE®, a newly FDA-approved dermal filler from the JUVÉDERM® family of anti-aging products. Dr. Atkin says the innovative formula is designed to soften nasolabial folds with natural-looking results and long-lasting effects. The flexible formula, she reveals, can provide facial rejuvenation in the treated region for up to 18 months.
Like other JUVÉDERM® products, JUVÉDERM VOLLURE® is a hyaluronic acid-based gel. Dr. Atkin says the firm but malleable consistency, which is formulated with VYCROSS® technology, is part of what makes the cosmetic injectable so effective. In addition to smoothing moderate to severe wrinkles along the nose and mouth, she says the next-generation substance continues to deliver aesthetic benefits for up to a year and half. After this point, Dr. Atkin advises patients who wish to extend the effects to receive occasional maintenance injections.
Dr. Atkin says she is committed to providing the most advanced non-surgical skin care and aesthetic treatments available, which is why she is proud to be the first in Del Mar to offer JUVÉDERM VOLLURE®. Safety is another top priority, which is why she personally administers all cosmetic injectables at her state-of-the-art practice. She reminds potential users that JUVÉDERM VOLLURE® is appropriate for patients 21 years of age or older and typically requires no allergy testing.
JUVÉDERM VOLLURE® can minimize the appearance of nasolabial folds, also called parentheses lines, which run from the nose down to the mouth. Dr. Atkin notes that the dermal filler can also be used for facial rejuvenation in other areas, as determined by the patient's medical evaluation and treatment plan. She encourages individuals interested in learning more about JUVÉDERM VOLLURE® to discuss their cosmetic goals with an experienced injector such as a board certified dermatologist. "Nasolabial folds are a common cosmetic complaint in our Del Mar dermatology practice. I am excited to offer my patients this innovative option for reducing the appearance of these facial folds. Patients immediately see a more youthful, refreshed image in the mirror."
About Deborah Atkin, MD
Dr. Deborah Atkin is certified by the American Board of Dermatology and serves as the Medical Director of Dermatology & Laser of Del Mar. After earning her medical degree from the University of California, Los Angeles, Dr. Atkin completed an Internal Medicine Internship at Scripps Clinic and Research Foundation, followed by her residency in Dermatology at the University of Arizona. An active member of several prestigious medical organizations, Dr. Atkin has also earned numerous accolades, including the UCLA School of Medicine Ciba Geigy Award for Outstanding Community Service and the San Diego Health Agencies Volunteer of the Year award. She is available for interview upon request.
For more information about Dr. Atkin and Dermatology & Laser of Del Mar, please visit dermdelmar.com and facebook.com/dermdelmar.
Contact:
Dermatology & Laser of Del Mar
12865 Del Mar Way, Ste. 160
Del Mar, CA 92014
(858) 350-7546
Rosemont Media
(858) 200-0044
www.rosemontmedia.com