Del Mar Dermatologist Launches Mobile App and Loyalty Program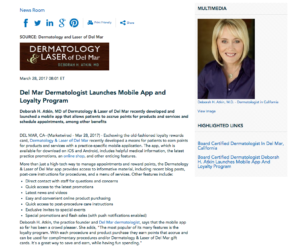 Deborah H. Atkin, MD of Dermatology & Laser of Del Mar recently developed and launched a mobile app that allows patients to accrue points for products and services and schedule appointments, among other benefits.
Del Mar, CA — Eschewing the old-fashioned loyalty rewards card, Dermatology & Laser of Del Mar recently developed a means for patients to earn points for products and services with a practice-specific mobile application. The app, which is available for download on iOS and Android, includes helpful medical information, the latest practice promotions, an online shop, and other enticing features.
More than just a high-tech way to manage appointments and reward points, the Dermatology & Laser of Del Mar app provides access to informative material, including recent blog posts, post-care instructions for procedures, and a menu of services. Other features include:
Direct contact with staff for questions and concerns

Quick access to the latest promotions

Latest news and videos

Easy and convenient online product purchasing

Quick access to post-procedure care instructions

Exclusive invites to special events

Special promotions and flash sales (with push notifications enabled)
Deborah H. Atkin, the practice founder and Del Mar dermatologist, says that the mobile app so far has been a crowd pleaser. She adds, "The most popular of its many features is the loyalty program. With each procedure and product purchase they earn points that accrue and can be used for complimentary procedures and/or Dermatology & Laser of Del Mar gift cards. It's a great way to save and earn, while having fun spending."
Individuals interested in the mobile app can find it in the Apple Store (for iPhone users) and in the Google Play store (for Android users).
About Dermatology & Laser of Del Mar
Led by board certified dermatologist Deborah H. Atkin, Dermatology & Laser of Del Mar offers medical and cosmetic skin care for people in the Del Mar and San Diego area. The state-of-the-art practice is equipped the latest equipment, including laser technology to help patients improve the health and appearance of their skin. With her patient-focused approach, Dr. Atkin and her team of skilled professionals can treat a comprehensive array of common and complex concerns, typically without the need for invasive methods.
For more information about Dr. Atkin and Dermatology & Laser of Del Mar, please visit dermdelmar.com and facebook.com/dermdelmar.
Contact:
Dermatology & Laser of Del Mar
12865 Del Mar Way, Ste. 160
Del Mar, CA 92014
(858) 350-7546
Rosemont Media
(858) 200-0044
www.rosemontmedia.com