Minimally Invasive ThermiRF® Offers Del Mar Residents Trio of Benefits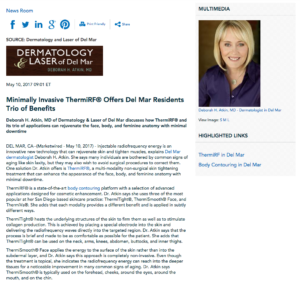 Deborah H. Atkin, MD of Dermatology & Laser of Del Mar discusses how ThermiRF® and its trio of applications can rejuvenate the face, body, and feminine anatomy with minimal downtime.
Del Mar, CA — Injectable radiofrequency energy is an innovative new technology that can rejuvenate skin and tighten muscles, explains Del Mar dermatologist Deborah H. Atkin. She says many individuals are bothered by common signs of aging like skin laxity, but they may also wish to avoid surgical procedures to correct them. One solution Dr. Atkin offers is ThermiRF®, a multi-modality non-surgical skin tightening treatment that can enhance the appearance of the face, body, and feminine anatomy with minimal downtime.
ThermiRF® is a state-of-the-art body contouring platform with a selection of advanced applications designed for cosmetic enhancement. Dr. Atkin says she uses three of the most popular at her San Diego-based skincare practice: ThermiTight®, ThermiSmooth® Face, and ThermiVa®. She adds that each modality provides a different benefit and is applied in subtly different ways.
ThermiTight® heats the underlying structures of the skin to firm them as well as to stimulate collagen production. This is achieved by placing a special electrode into the skin and delivering the radiofrequency waves directly into the targeted region. Dr. Atkin says that the process is brief and made to be as comfortable as possible for the patient. She adds that ThermiTight® can be used on the neck, arms, knees, abdomen, buttocks, and inner thighs.
ThermiSmooth® Face applies the energy to the surface of the skin rather than into the subdermal layer, and Dr. Atkin says this approach is completely non-invasive. Even though the treatment is topical, she indicates the radiofrequency energy can reach into the deeper tissues for a noticeable improvement in many common signs of aging. Dr. Atkin says ThermiSmooth® is typically used on the forehead, cheeks, around the eyes, around the mouth, and on the chin.
ThermiVa® is the application used to help restore the youthful look and function of the feminine anatomy. Dr. Atkin explains that a narrow applicator is used to externally and internally firm skin and improve muscle tone, helping improve bladder control, reduce dryness, and increase sexual sensation. She says this technique can also minimize the appearance of prominent labial skin for patients who prefer a non-surgical alternative to Labiaplasty.
Dr. Atkin says that patients can usually return to normal activity the same or the next day, depending on the application used and the individual's unique rate of healing. Some ThermiRF® therapies are effective with a single session, while Dr. Atkin adds that others may require a series of treatments. She encourages people interested in learning more about this innovative platform to contact an experienced, board certified dermatologist who has extensive training using this device. She says, "ThermiRF® makes it possible to smooth and tighten from head to toe! We are amazing by the low downtime, comfort, and ease to patients."
About Deborah H. Atkin, MD
Certified by the American Board of Dermatology, Dr. Deborah Atkin is the founder and medical director of Dermatology & Laser of Del Mar, located in the San Diego area. She earned her undergraduate degree from California State University, Northridge and University of California Santa Barbara, and her medical degree from University of California Los Angeles. Dr. Atkin completed additional training at the University of Arizona and Scripps Clinic and Research Foundation. She is an active member of several professional organizations, including the American Academy of Dermatology and the American Society for Dermatologic Surgery. Dr. Atkin is available for interview upon request.
For more information about Dr. Atkin and Dermatology & Laser of Del Mar, please visit dermdelmar.com and facebook.com/dermdelmar.
Contact:
Dermatology & Laser of Del Mar
12865 Del Mar Way, Ste. 160
Del Mar, CA 92014
(858) 350-7546
Rosemont Media
(858) 200-0044
www.rosemontmedia.com