Stay tuned for QWO
QWO is an exciting new injectable used to treat  moderate to severe cellulite in the buttocks of adult women. It is the first and only FDA-approved injectable for cellulite, and it is unique in that is targets a primary structural cause of cellulite – the disordered fibrous septae.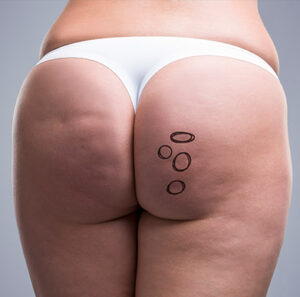 While cellulite is known to be a multifactorial condition, a primary contributing factor is the fibrous connective tissue, called the "fibrous septae," which connect the skin to the fascia below. These fibrous septae tether the skin, drawing it downward and leading to a mattress-like appearance, commonly referred to as "dimpling." When injected into the treatment area, QWO is thought to release the fibrous septae enzymatically by specifically targeting Types 1 and 3 collagen, which result in smoothing of the skin and an improved appearance of cellulite.
QWO is recommeneded in a series of 3 treatments, with treatments spaced at three week intervals. QWO is injected into the fat (subcutaneously) of each single treatment area. You may receive up to 12 injections per treatment area. 
Qwo will be available in Spring of 2021; we hope to have it availalbe to patients as soon as April. 
To receive more information, or to be contacted when QWO is available, contact us.