Staff Spotlight: Meet Vanessa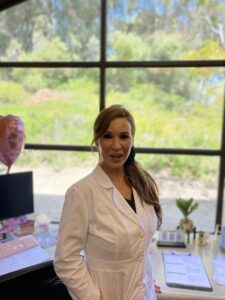 Vanessa is the latest addition to our Derm Del Mar family, and we couldn't be more pleased.  She has built a successful career as an esthetician over the last decade. Her knowledge and expertise is unparalleled. Vanessa also has a warm and caring way about her that patients and co-workers gravitate too. 
Vanessa was born and raised in Los Angeles and came to San Diego over a decade ago. She is the proud mother of two girls and enjoys spending her time off biking with her daughters, hunting for antiques, swing dancing and singing. 
Skin Type: Normal-to-dry
Favorite Treatment: I  LOVE the Dermal Infusion (Diamond Glow). It makes your skin feel so clean and fresh. It's great for hydrating, toning and rejuvating the skin. 
Favorite Product:
My favorite product is Skinmedica's TNS serum. It's result oriented and great for anti-aging. I would recommend it to anyone that is concerned with premature aging.
Tips or tricks: Never sleep with your makeup on. Always use a silk pillow case and train yourself to sleep on your back.
Favorite Quote:
"Always have a teachable spirit."