My First SkinMedica® Vitalize Peel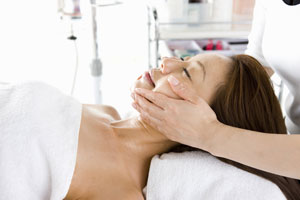 Since I was a novice when it comes to skin care I was nervous about my recent appointment for a chemical peel. I have seen Marci, the in-house skin care expert at Dermatology & Laser of Del Mar, for brow shaping and facials. But a peel? This was taking my skin care to a whole new level!
Marci and I talked beginning of the appointment, she quickly had me up to speed on what the process would entail. We discussed my concerns and goals and what I felt would be realistic for me to do for maintenance and a continued skin care plan.
Based on our conversation Marci and I agreed SkinMedica's Vitalize Peel was the best fit for me.
To start the treatment Marci cleansed my face and applied a prepping solution that takes away any make-up or sunscreen residue. Next, the peeling solution was applied in 2 layers, with a third layer in my most damaged areas. Marci had provided a small handheld that blew cool air on my face for comfort. With the fan my discomfort level as about a 4 on a scale from 1-10. Next she applied the last step which is a liquid Retinol. This causes the skin to immediately cool down, any discomfort subsides. It also leaves you with a glow so I wasn't worried about going out without makeup.
The next day I felt my skin tighten, but it looked refreshed and healthy. Within 24 hours my chin started peeling and before long my cheeks and forehead followed!
Once the peeling was completed my skin was the softest it has ever been, the texture is smoother and my color is more even. My makeup goes on so evenly and I get so many compliments about how great my skin looks! I am very happy I did it, and I will definitely keep up my series of treatments!