Del Mar Dermatologist Reveals Benefits of UltraShape® Power Body Contouring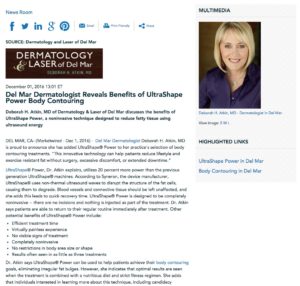 Deborah H. Atkin, MD of Dermatology & Laser of Del Mar discusses the benefits of UltraShape® Power, a noninvasive technique designed to reduce fatty tissue using ultrasound energy.
Del Mar, CA — Del Mar Dermatologist Deborah H. Atkin, MD is proud to announce she has added UltraShape® Power to her practice's selection of body contouring treatments. "This innovative technology can help patients reduce lifestyle and exercise resistant fat without surgery, excessive discomfort, or extended downtime."
UltraShape® Power, Dr. Atkin explains, utilizes 20 percent more power than the previous generation UltraShape® machines. According to Syneron, the device manufacturer, UltraShape® uses non-thermal ultrasound waves to disrupt the structure of the fat cells, causing them to degrade. Blood vessels and connective tissue should be left unaffected, and she adds this leads to quick recovery time. UltraShape® Power is designed to be completely noninvasive—there are no incisions and nothing is injected as part of the treatment. Dr. Atkin says patients are able to return to their regular routine immediately after treatment. Other potential benefits of UltraShape® Power include:
Efficient treatment time
Virtually painless experience
No visible signs of treatment
Completely noninvasive
No restrictions in body area size or shape
Results often seen in as little as three treatments
Dr. Atkin says UltraShape® Power can be used to help patients achieve their body contouring goals, eliminating irregular fat bulges. However, she indicates that optimal results are seen when the treatment is combined with a nutritious diet and strict fitness regimen. She adds that individuals interested in learning more about this technique, including candidacy requirements, should speak with an experienced medical professional who utilizes this technology.
About Deborah H. Atkin, MD
Founder of Dermatology & Laser of Del Mar, Dr. Deborah Atkin is a board certified dermatologist who practices in the San Diego and Del Mar area. She earned her medical degree from the University of California, Los Angeles School of Medicine, and she completed additional medical training at the Scripps Clinic and Research Foundation and the University of Arizona. Dr. Atkin has contributed to numerous community outreach programs and medical missions in the US and around the world. She is a member of several esteemed medical organizations, including the American Academy of Dermatology, the American Society for Laser Medicine and Surgery, and the American Society for Dermatologic Surgery. She is available for interview upon request.
For more information about Dr. Atkin and her practice, please visit dermdelmar.com and facebook.com/dermdelmar.
Contact:
Dermatology & Laser of Del Mar
12865 Del Mar Way, Ste. 160
Del Mar, CA 92014
(858) 350-7546
Rosemont Media
(858) 200-0044
www.rosemontmedia.com