Del Mar Dermatologist Introduces Nonsurgical 'Double Chin' Treatment Called KYBELLA™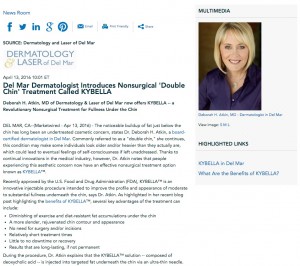 Deborah H. Atkin, MD of Dermatology & Laser of Del Mar now offers KYBELLA™ – a revolutionary nonsurgical treatment for fullness under the chin.
Del Mar, CA — The noticeable buildup of fat just below the chin has long been an undertreated cosmetic concern, states Dr. Deborah H. Atkin, a board-certified dermatologist in Del Mar. Commonly referred to as a "double chin," she continues, this condition may make some individuals look older and/or heavier than they actually are, which could lead to eventual feelings of self-consciousness if left unaddressed. Thanks to continual innovations in the medical industry, however, Dr. Atkin notes that people experiencing this aesthetic concern now have an effective nonsurgical treatment option known as KYBELLA™.
Recently approved by the U.S. Food and Drug Administration (FDA), KYBELLA™ is an innovative injectable procedure intended to improve the profile and appearance of moderate to substantial fullness underneath the chin, says Dr. Atkin. As highlighted in her recent blog post highlighting the benefits of KYBELLA™, several key advantages of the treatment can include:
Diminishing of exercise and diet-resistant fat accumulations under the chin

A more slender, rejuvenated chin contour and appearance

No need for surgery and/or incisions

Relatively short treatment times

Little to no downtime or recovery

Results that are long-lasting, if not permanent
During the procedure, Dr. Atkin explains that the KYBELLA™ solution – composed of deoxycholic acid – is injected into targeted fat underneath the chin via an ultra-thin needle. Once administered, the formula works to gradually destroy fat cells, inhibiting their ability to store and/or amass fat. Depending on the patient's unique needs, the entire treatment can generally be completed in approximately 15 to 20 minutes, she notes, and a topical anesthetic can often be applied to help eliminate any potential discomfort. While some swelling and bruising is common following the KYBELLA™ procedure, she adds, the majority of individuals are able to return to their normal daily routines within a day, if not immediately after treatment.
Regarding results, Dr. Atkin states that initial effects of KYBELLA™ typically become apparent after about two to four treatments, though a total of approximately six sessions may be necessary to achieve optimal outcomes. Once the patient's desired appearance is successfully attained, she says retreatment is typically not necessary as the results are long-lasting – and many times permanent – for most individuals.
Ultimately, for patients interested in KYBELLA™, Dr. Atkin stresses the importance of consulting a qualified physician, such as a board-certified dermatologist. "Similar to any other medical treatment or procedure, there are certain risks associated with KYBELLA™ when the technique is not administered properly. By seeking a skilled and credentialed doctor who has experience with KYBELLA™, you can help ensure you receive the safest, most effective treatment for your unique needs."
About Deborah H. Atkin, MD
After obtaining her medical with honors from the University of California, Los Angeles, Dr. Atkin went on to complete her Internal Medicine internship at Scripps Clinic and Research Foundation, followed by her Dermatology residency at the University of Arizona. Certified by the American Board of Dermatology, she offers an expansive range of skin care treatments and laser procedures, including cosmetic injectables, IPL therapy, microdermabrasion, and more. In addition, she also provides CoolSculpting®, UltraShape®, and various other nonsurgical body contouring options. Dr. Atkin is available for interview upon request.
For more information, visit dermdelmar.com and facebook.com/dermdelmar.
Contact:
Dermatology & Laser of Del Mar
12865 Del Mar Way, Ste. 160
Del Mar, CA 92014
(858) 350-7546
Rosemont Media
(858) 200-0044
www.rosemontmedia.com