Benefits of Laser Skin Resurfacing in San Diego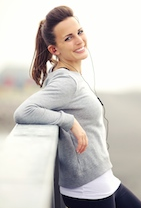 With its year-round sunny climate, San Diego is one of the most popular places to live. However, that beautiful weather can also have a damaging effect on your skin. From fine lines and wrinkles to Actinic Keratosis (AK), the sun's UVA and UVB rays can make you look older than you are. They also increase your risk of developing skin cancer.
At our advanced medical and cosmetic dermatology practice, we offer the innovative Fraxel® Laser Trio – three distinctive fractionated lasers that can help restore the youth and vitality of your skin without having to abandon your active outdoor lifestyle.
Our board-certified dermatologist, Deborah H. Atkin, M.D., utilizes the appropriate Fraxel® laser to suit your individual needs and goals. Some of the skin conditions our lasers treat include: fine lines and wrinkles, actinic sun damage, acne scars, mild to moderate skin laxity, and hyperpigmentation (brown spots or melasma). Dr. Atkin may recommend one or a combination of lasers to address your individual concerns.
In addition to improving skin tone and texture and reducing sun damage, the Fraxel® laser offer the following benefits:
Effective on patients of nearly all ages and skin types
Little to no downtime
Typically does not cause sun sensitivity
Can be combined with other skin therapies, such as Ulthera®
Highly customizable
Our fractionated lasers – Re:store™ Laser by Fraxel®, DUAL Laser by Fraxel®, and Re:pair® Laser by Fraxel® – renew the appearance of your skin by encouraging the development of your own new collagen, which not only improves texture but can also firm the skin. After a few customized treatments, you will see healthier, more youthful-looking skin and notice a decrease in your sun-damage with enjoying your active San Diego lifestyle.
If you would like more information on laser skin resurfacing with Fraxel® lasers, or if you would like to schedule a consultation with Dr. Atkin, please contact us today.