Staff Spotlight: Meet Shelley
Shelley joined our practice in 2018 and the first question that came to mind was "Where have you been all of our lives!"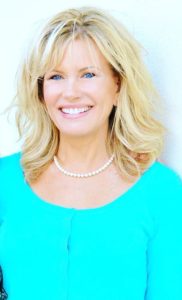 Shelley has worked in the Aesthetic Medicine industry for over 3 decades and has an absolute wealth of knowledge and experience. She fills the role of  Esthetician at Dermatology & Laser of Del Mar, where she is very popular with patients and co-workers alike. 
"I  love patients! That is definitely the best part of my job. Meeting and helping all sorts of wonderful, interesting people. I  love educating them about their skin-health and assisting them in meeting their aesthetic goals. It's great to be able to do this in such a warm and supportive environment."
Originally from Peoria, Illinois, Shelley has an incomparable zest for life. As much as she is a midwestern girl at heart, San Diego suits her very well.  On the evenings you can find her at the Pilates studio, and on the weekends she'll be tearing up the local trails with her love of hiking. 
She is a proud mother of 2 daughters and a son (all grown up!) and a proud grandma to a grandson and granddaughter. 
Skin Type: Normal to a little dry
Favorite Treatment:  
I  LOVE, LOVE, LOVE Diamond GLow (Dermal Infusion).  It is the perfect pick-me-up for your skin. It cleans your pores while stimulating circulation and infusing a variety of nourishing serums into your skin. It is great for all skin types, and a variety of skin concerns. 
Favorite Product: 
TNS Advanced by SkinMedica. This is my go-to anti aging product. It smooths lines and wrinkles, stimulates collagen and brightens the skin!
SkinCare Regimen:
Morning I  start with  cleansing and my SkinMedica TNS Advanced. Next is my SkinMedica HA5 Rejuvenating Hydrator, then Total Defense & Repair Sunscreen. 
In the Evening, after taking off make up and the debris from the day, I use my TNS Advanced, Retinol Complex, HA5 Rejuvenating Complex and Dermal Repair Moisturizer. 
I  think most people underestimate the need for good product with potent ingredients. Since I  have started using SkinMedica's growth factor serum and hyaluronic acid (HA5) I  have seen a noticeable difference in the texture of my skin. Others have noticed and commented to me on the healthy, vibrant glow my skin has.
Tips or tricks:  
Get regular facials! This is so important for your skin's health. Keeping the pores clear helps keep them smaller and a little regular AHA or BHA treatment helps invisibly exfoliate and stimulate healthy cellular turnover. 
Favorite Quote:
"Your health is your wealth"  and "Exercise is the fountain of youth"