San Diego Dermatologist Eliminates Stubborn Fat with Non-Surgical Treatment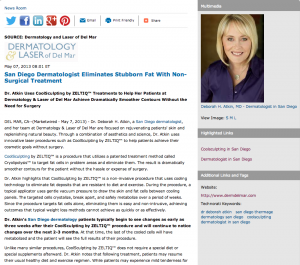 Dr. Atkin uses CoolSculpting by ZELTIQ™ treatments to help her patients at Dermatology & Laser of Del Mar achieve dramatically smoother contours without the need for surgery.
Del Mar, CA – Deborah H. Atkin, M.D., a San Diego dermatologist, and her team at Dermatology & Laser of Del Mar are focused on rejuvenating patients' skin and replenishing natural beauty. Through a combination of aesthetics and science, Dr. Atkin uses innovative laser procedures such as CoolSculpting by ZELTIQ™ to help patients achieve their cosmetic goals without surgery.
CoolSculpting by ZELTIQ™ is a procedure that utilizes a patented treatment method called Cryolipolysis™ to target fat cells in problem areas and eliminate them. The result is dramatically smoother contours for the patient without the hassle or expense of surgery.
Dr. Atkin highlights that CoolSculpting by ZELTIQ™ is a non-invasive procedure that uses cooling technology to eliminate fat deposits that are resistant to diet and exercise. During the procedure, a topical applicator uses gentle vacuum pressure to draw the skin and fat cells between cooling panels. The targeted cells crystalize, break apart, and safely metabolize over a period of weeks. Since the procedure targets fat cells alone, eliminating them is easy and non-intrusive, achieving outcomes that typical weight loss methods cannot achieve as quickly or as effectively.
Dr. Atkin's San Diego dermatology patients typically begin to see changes as early as three weeks after their CoolSculpting by ZELTIQ™ procedure and will continue to notice changes over the next 2-3 months. At that time, the last of the cooled cells will have metabolized and the patient will see the full results of their procedure.
Unlike many similar procedures, CoolSculpting by ZELTIQ™ does not require a special diet or special supplements afterward. Dr. Atkin notes that following treatment, patients may resume their usual healthy diet and exercise regimen. While patients may experience mild tenderness for a short period of time after treatment, there is no downtime with this procedure and patients may return to their normal levels of activity immediately.
CoolSculpting by ZELTIQ™ works best for patients who enjoy an active lifestyle but are unable to lose pockets of stubborn fat. The procedure offers a solution when diet and exercise are ineffective at eliminating targeted areas of fat deposits. Clinical trials have shown that eliminating fat with CoolSculpting by ZELTIQ™ is safe, effective, and does not harm the skin.
According to Dr. Atkin, patients will experience results with a single CoolSculpting by ZELTIQ™ treatment, but more dramatic results can be achieved with additional treatments. Some of Dr. Atkin's patients who have CoolSculpting by ZELTIQ™ procedures performed also consider Thermage® treatments to firm and tighten the skin.
About Deborah H. Atkin, MD
Dr. Deborah Atkin is a graduate of CSU Northridge and UC Santa Barbara where she earned her BS in Dietetics. She is a board-certified dermatologist and earned her medical degree from the UCLA School of Medicine. Dr. Atkin previously served as a surgical volunteer for the African Medical Mission in South Africa and is currently an active volunteer for the American Cancer Society and the American Liver Foundation. She is available for interview upon request.