Microdermabrasion and Fruit Enzyme- a delicious duo to treat your skin
Microdermabrasion is a popular tool in the pursuit of turning back the clock. When coupled with exfoliating fruit enzymes and other alpha or beta hydroxy acids you can expect to see softer, brighter skin in just a few short minutes.
Dermatology & Laser of Del Mar's own Kristi Martone, LE, has created a signature treatment for our Del Mar dermatology patients. The procedure starts off with a deep cleanse, followed by a gentle microdermabrasion to shed away dull, damaged skin. For the men that are reading this, imagine a small gentle sandblaster.
The exfoliation process is straightforward: a pressurized stream of diamond crystals glides across the skin's surface, manually buffing away the top dead skin cell layer (the stratum corneum.) Not only does it cause the old skin to shed, it sends messages to the cells that they need to regenerate faster, producing a fresh new surface.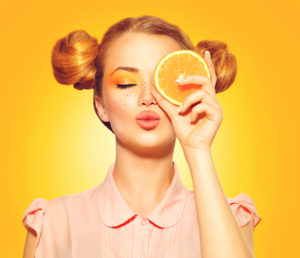 Next step is to apply the fruit enzyme. She selects a blend based on your individual needs, skin conditions and goals. This vitamin rich alpha hydroxy acid nourishes the skin, leaving you with a vibrant glow and smooth, supple texture.
" I've found while some patients want the soft touch and smoothing scents, others seek a more goal-oriented treatment and are not looking for a luxurious or pampering experience. I try to deliver individualize the experience taking into account what my client desires for their skin. I love customizing your treatment and creating a blend that is specific to what your skin needs." — Kristi Martone, L.E.
Microdermabrasion combined with (aha) fruit enzyme is perfect for improving uneven texture, shrinking large pores, and decreasing sun damage or dark spots. Your skin will feel softer, appear brighter and you will notice your skin care products and makeup will go on smoother than ever. When paired with a customized at-home regime, you will be flawless and fabulous!
This signature treatment is our featured offering for FANTASTIC FRIDAYS in August. Contact us to schedule