How to Combat Tired, Aging Eyes
The delicate skin around the eyes is one of the first places that will start to show signs of aging. Fine lines, bags, and sagging skin in the upper lid will make you look tired and older than you may feel. Treatment options and skin care product recommendations for this common complaint is a popular conversation in our Del Mar dermatology practice.
When consulting with patients regarding concerns in the eye area, Deborah H. Atkin, M.D. is quick to discuss preventative, as well as corrective measures. Dr. Atkin has a variety of non-invasive to minimally invasive treatments that will improve the aged or tired looking eye area as well as stave of aging changes.
What are my treatment options?
Restylane or Juvederm: These hyaluronic acid based fillers are often used to treat lines and wrinkles as well as plump the face.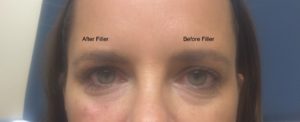 When placed into the upper cheek and/or "tear trough" you can create a subtle filling that will help to reduce lines and wrinkles as well as "hide" under eye bags. In some instances it can also decrease shadowing under the eyes that can create the appearance of dark circles.
Ulthera for the Brow: Ulthera is one of our most sought after cosmetic treatments in our practice. Ulthera, or Ultherapy as it's often referred to, uses focused ultrasound to stimulate the production of new collagen and connective tissue tightening. This dual action creates a lifting and tightening the skin. Most patients see an immediate benefit with the full results occurring gradually over 4-12 weeks.
When used in the brow and periorbital area it will lift the brow, decrease the appearance of crows feet and under eye lines. It also lifts the upper cheek to help reduce the appearance of under eye bags. It is a quick, easy, no-downtime and a very high satisfaction treatment.
Eyes by Thermage (for upper eyelids): This treatment works much like Ulthera, however, it uses radio frequency instead of ultrasound to firm the eyelid skin. The radio frequency creates a heat reaction that tightens fibers septae (this connects the skin on the surface to tissue below) and stimulates volume reduction in the tissue. This will reduce excess eyelid skin and making the eyelids tighter and less crepey.
Botox or Dysport: Botox, and more recently Dysport, are popular treatments to reduce the appearance of crows feet (the wrinkles we get next to our eyes) frown lines between the eyes and forehead lines. For many people it can also provide a mini brow or eyelid lift. Botox and Dysport reduces the activity in small muscle groups that cause frowning, squinting and furrowing your brow. Once these expressions are decreased, your lines will decrease. It also prevents you from knitting your brows together. If your muscles aren't "pulling down" the effect is that of a mini brow lift
What about eye creams?
Topical Eye products, such as SkinMedica's TNS Eye Repair and TNS Illuminating Eye diminish the appearance of dark circles and firm the skin around the eye area. Fine lines and wrinkles will reduce due to proper hydration in the skin. The SkinMedica eye products contain a patented growth factor that assists in stimulating new collagen formation that will lead to an enhanced appearance in the eye area.
SkinMedica's latest offering, HA5 Rejuvenating Hydrator, works by enhancing the skins ability to retain moisture and heal itself. HA5 contains a blend of 5 different types of hyaluronic acids that help to reverse intrinsic aging changes and creates noticeable change within days. When applied around the eyes (even on the eyelid) you will see firmer, smoother skin.


Since Ulthera and Thermage are both "foundational treatments" that stimulate new collagen and help to decrease the breakdown of collagen and elastin they are perfect to use as a preventative measure and will help to slow the signs of aging.
Many patients in our practice have created a treatment plan that includes Ulthera and or a light laser resurfacing every 1-3 years and Botox 2-3 times a year. This along with a good at-home skin care regimen rich in growth factors, retinoids, antioxidants and specialty serums can create your own anti-aging phenomenon. Who doesn't want to look fresher and more vibrant and STAY looking fresh and vibrant?
For more information about treating aging, tired eyes contact us to schedule a consultation.