Achieve Your Bikini Body Faster With Targeted Non-Surgical Body Contouring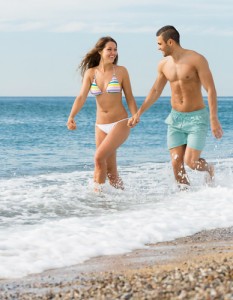 Now that you know that not all CoolSculpting® treatments are the same, you might wonder where to go for a customized approach to body contouring. Our board certified dermatologist, Dr. Deborah H. Atkin, offers personalized treatment plans that use one, two, or more innovative techniques to ensure you receive the best results possible. In addition to CoolSculpting®, our practice is equipped with the most advanced non-surgical fat reduction and cellulite minimizing technology available, including ZWave PRO, VelaShape® III, UltraShape, and Thermage for skin tightening. The ideal method for your anatomic needs and goals may involve one treatment or a selection of procedures, so why settle for less?
CoolSculpting® is particularly well-suited to addressing fatty tissue on the hips and flanks, but oftentimes UltraShape can achieve more comprehensive fat reduction on the stomach. Each technology will be used in the optimal way to help you obtain the outcome you desire, rather than forcing one device to perform several tasks—which can lead to unreliable results. You can have your choice of advanced treatment methods in one office, making body contouring easier, faster, and more effective than ever.